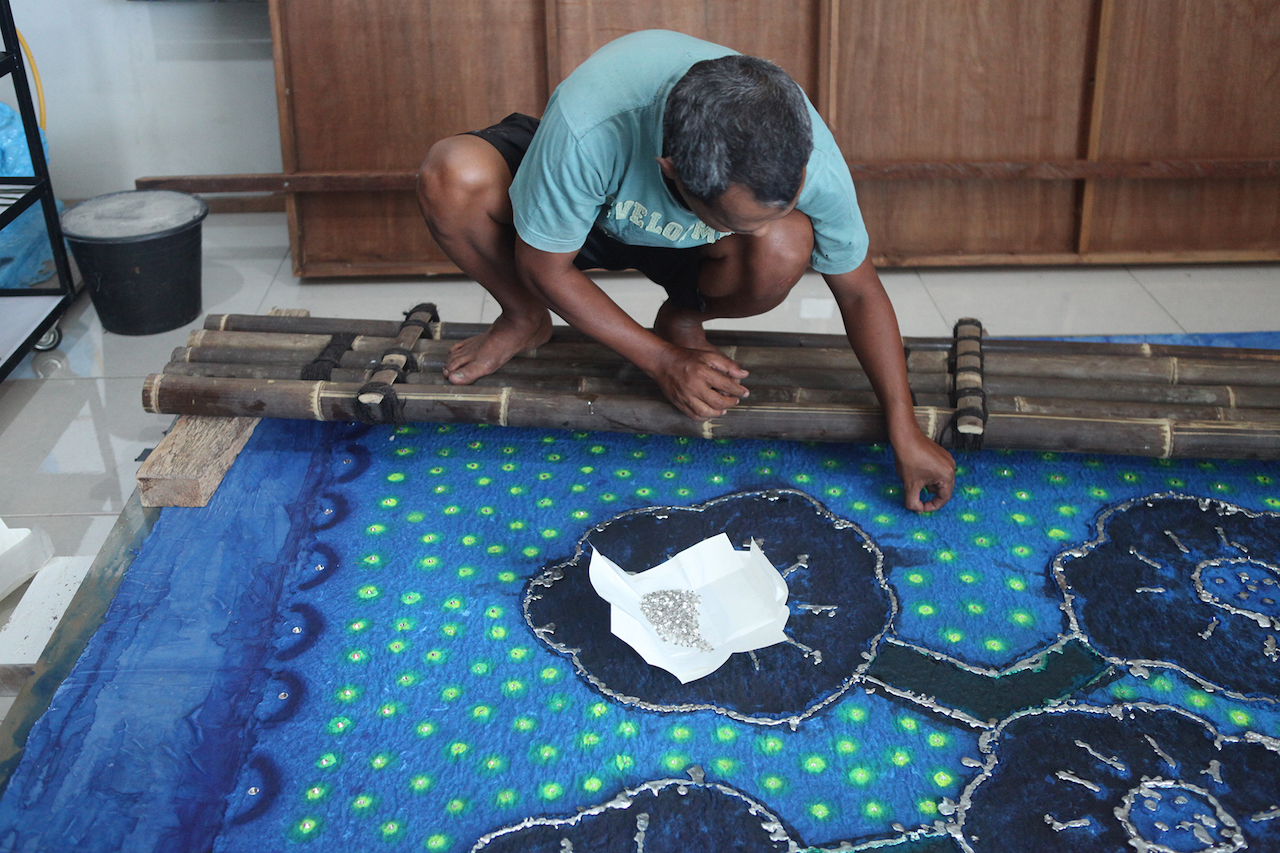 Yunizar
(b. 1971, TALAWI)

An influential figure in the burgeoning Indonesian art scene, Yunizar has garnered critical acclaim on an international level. Known for negating aesthetic orthodoxies, the Jendela Group artist creates work that liberates imagination and genuine expression. He rejects the functional and rational, choosing instead to follow his primal inclinations. To him, it is not about the veracity or formal structure of things that engage the mind. Alternatively, he believes that human nature reveals itself more through organic instinct, as well as personal, rather than institutional, ideas of beauty. This view results in an extraordinarily sophisticated and playful style that manifests in a primordial, earthy aesthetic.

Yunizar's work brings to mind images of childlike doodles and scribbles. Using thick, uneven lines in a subtle palette of mainly yellows, browns and greens, he further suggests the impression of cave paintings which signal to a time before humanity became preoccupied with organised civilisation. These doodles of both recognisable animals and imaginary creatures then generate a limitless world of whimsical rhythm. The simplicity of forms reflects his finding of beauty in conventionally trivial, mundane and useless thoughts.

Heavily influenced by the Minangkabau culture, Yunizar also taps into the poetic stories of oral traditions. Through the incomprehensible scribbling of sinuous alphabets, he references the organic flow of words that travel through people in the oration of village narratives. The way oral traditions work, in that they change over time and place, echoes in Yunizar's work. As viewers, we fail to find a structure; we fail to 'read' the story because it is always changing. He then encourages us to rediscover our child-like self and find our own narratives within this rich realm of images and lines.

A graduate from the Indonesian Institute for the Arts (ISI) in Yogyakarta, Yunizar is a prominent member of the Jendela group, Indonesia's most prominent contemporary art collective. 2007 marked Yunizar's first solo museum exhibition at the National University of Singapore Museum (NUS), Singapore. He has also been awarded Best Painting by the Peksiminas III Exhibition (1995) and received Best Painting from the Philip Morris Award V (1998).
WORKS BY THIS ARTIST
MACAM DI HUTAN ANGGREK (Like Being in an Orchid Jungle)
2020
Acrylic on Canvas, 200 x 270 x 7 cm
Rendered in Yunizar's distinctive raw, childlike style, this work centers a recurring motif in Yunizar's oeuvre: a whimsical cat, disproportionally large and imposing against its surroundings. Natural symbols—plants, roosters, trees, flowers—fill up the rest of the canvas, creating a fantastical scene in which otherwise inanimate objects are charged with life, vibrancy and mystery.

Yet, a melancholic mood pervades the painting as the entire scene is dulled in monochrome black and white. The expression on the cat's face is somber, communicating a tinge of terror with its eyes wide open.
Suddenly, bright, fiery red appears around the canvas, framing and alarming the scene. An outside, alien force creeps in this otherwise peaceful world—and we feel the tension, the uncertainty in the eyes of the cat. In the context of today's world arrested by a pandemic, the piece powerfully captures the anxiety sweeping humanity at present. And yet, hope is poignantly symbolized in the form of a bright sun, right at the top center of the composition—a comforting reminder of what remains permanent amidst profound change. 
Little Little Monster
2020
Acrylic Paint on Cast Bronze, 38 x 40 x 15 cm
Edition 6 of 8 + 2 Artist Proofs
Like his paintings, Yunizar's sculptures similarly veer on the whimsical and absurd, as he produces creatures that straddle the line between the natural and make-believe.

This sculpture is part of Yunizar's ongoing Little Monsters series, in which he depicts eccentric monsters complete with sharp sets of teeth, ready to devour their preys. Yet, they are softened by their playful, endearing charm; rather than being grand and frightful, they are little, even comical.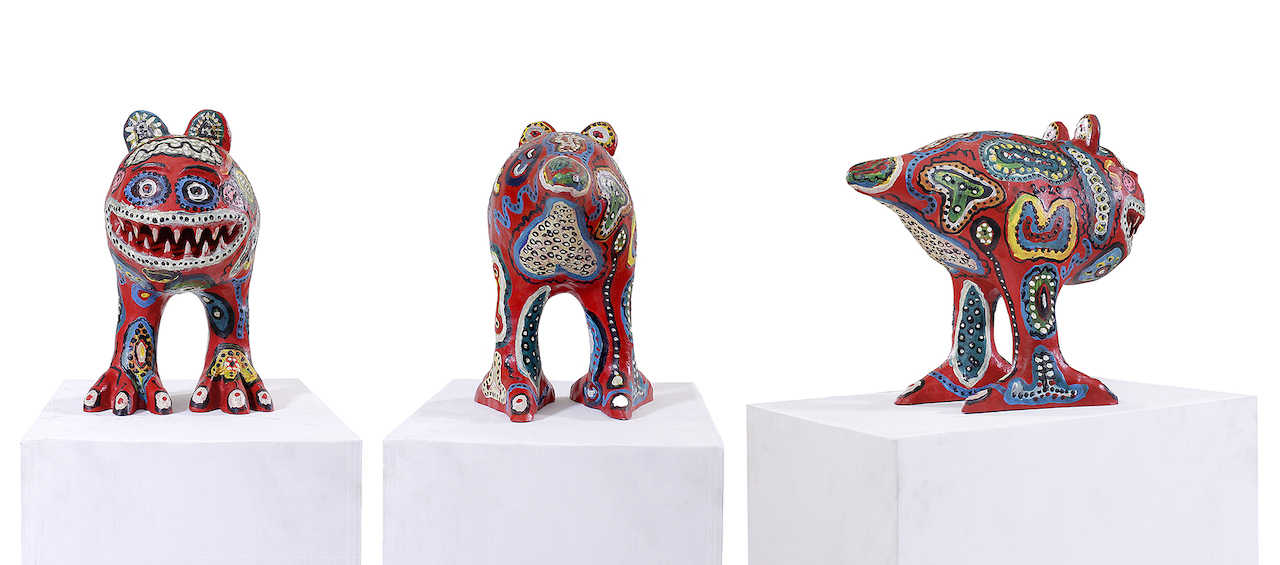 This particular piece is painted in bright red and covered in colorful and intricate dots and patterns—radiating a refreshing energy significantly different from his older sculptures that maintained their natural bronze color. In its irony and vibrancy, the sculpture communicates a subtle, yet provocative message: when we confront the real monsters haunting us today with wit, creativity and colour, they lose their darkness and power.