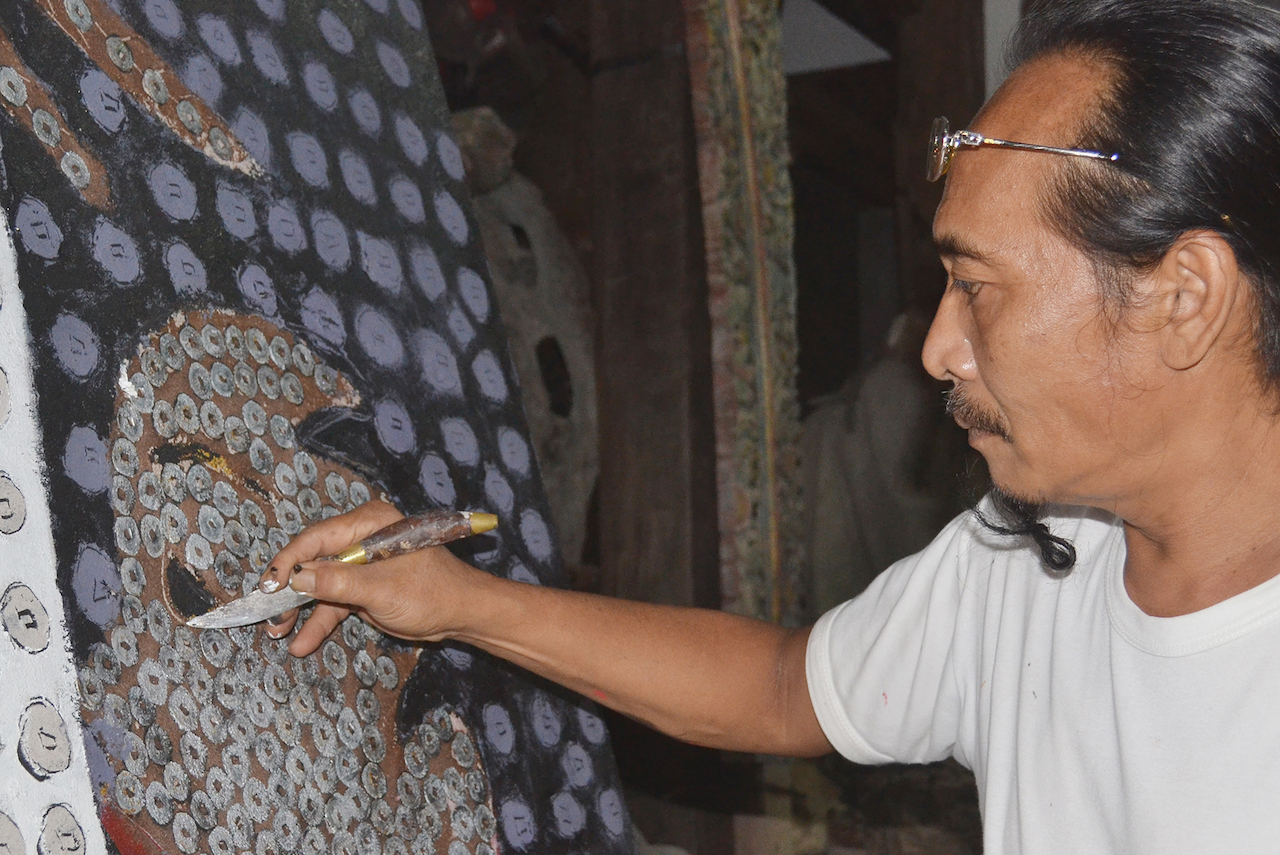 MADE DJIRNA
(b. 1957, UBUD)
'My concern is to express reflections that go far deeper than what we can know with our panca indra (eyes, ears, nose, tongue, skin)…All of my work is a process that goes hand in hand with the demands of my soul. It is essentially a spiritual process taking visible, pictorial shape.'

– I Made Djirna
Growing up in Bali, I Made Djirna was enchanted by illustrations of Balinese myths. Fascinated by the powerful depiction of good and evil spirits and the turmoil of the human soul, he began to draw and paint by the age of six.

Djirna mastered traditional Balinese art styles as a member of the Young Artists' Movement in Bali. As his artistic skills grew, Djirna left his hometown for the now Akademi Seni Rupa Indonesia in Yogyakarta, where he spent several years exploring the various issues arising from globalisation and a changing Indonesian society. In this new environment, Djirna's artistic spirit thrived and he began painting beyond what was traditionally beautiful and pleasing.

Today, Djirna's art explores a broad range of themes- from social issues and politics in Indonesia and the world, to personal reflections on village life and human relationships. One of Indonesia's most recognized artists, Djirna has received many awards for his works. He has exhibited, both solo and in groups, in Australia, Canada, Guam, Indonesia, Singapore and Switzerland.
WORKS BY THIS ARTIST

LULLABY FROM THE SMELL OF RAIN CLEARED SOIL 01 and 02
2020
Mixed Media on Canvas, 45 x 45 cm (3 panels)
Harking back Djirna's distinctly crude, childlike style during the 90 and 00s, this triptych depicts an evocative scene subtly expressing its subjects' inner tensions and anxieties. All three canvases reveal cracked, pale grey paint, muting the brighter colors of pink and blue beneath the surface. Despite having been created this year, the worn and aging form of this triptych calls to mind ancient artifacts, as if the scene depicted told a particular myth, historical moment or spiritual tradition.
Gazing at the centre tile, we can vaguely see a man lying down, possibly asleep or deceased. The left tile depicts a man's portrait, showing only his profile as he faces the grim scene at the centre. The right tile shows a woman gazing straight at us, with round, piercing eyes giving her a bewildered look. In its disarming rawness, the work reveals Djirna's inimitable ability to capture the truths and nuances of the human spirit amidst the complex dynamics of tragedy, belief, ritual and community.