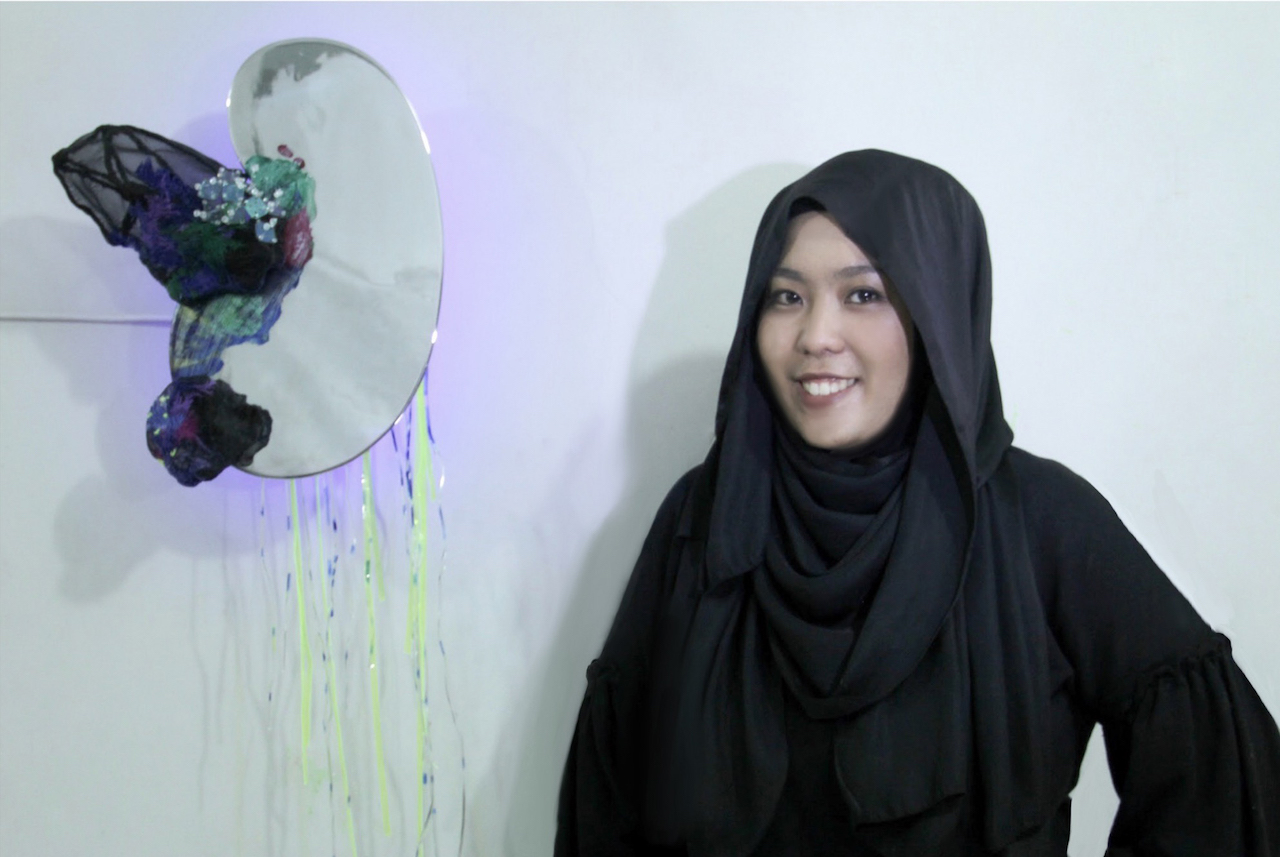 KAYLEIGH GOH
(b. 1987, WEST SUMATRA)
For Fika Ria Santika, nature has always been an unlimited source of inspiration. Born and raised in the Minangkabau Highlands of West Sumatra, a society which adopts the nature into everyday life, she seeks inspiration from themes such as unexplained change, cycles of life and inevitable growth. In particular, the phrase 'Alam Takambang Jadi Guru,' which means "Nature is the best teacher," is familiar to most Minang people, but it leaves Fika wondering about its relevance to youths today. Departing from this thought, she makes sure to embrace the essence of Minangkabau as she travels out of Indonesia; always keeping it in mind as she encounters different ways of life.

Despite drawing creative stimulus from organic forms, Fika approaches her artistic practice with technological materials such as resin, acrylic, pigment, digital print, and LED lights. Her installations command presence with their luminous surfaces and sensuously colourful shapes. Upon closer look, one realises her immaculate technique of repeating small cylindrical forms which reminisces the natural subjects such as filaments or plant stalks. With these pieces emanating a fluid personality, Fika then gracefully combines the natural and unnatural, creating a series of works that harmonise seemingly disjunct aspects of the world.

Fika graduated from Padang State University, Padang – Indonesia in 2010 and graduated from ISI Yogyakarta – Indonesia in 2012 for Magister. She was a winner of Mural Design Contest at National Gallery of Indonesia in 2014. Recently she undertook a residency at Selasar Sunaryo Artspace, Bandung – Indonesia in 2015.
WORKS BY THIS ARTIST
Tumpuk Lapis Tampak Isi: Laras 9 (Layers That Reveal Matter: Harmony 9)
2020
Acrylic, Nylon, Beads, Thread, Alumunium, and LED, 85 x 35 cm
Known for merging her deep explorations of the natural world with experimental materials and technology, Fika Ria Santika creates yet again an intriguing abstract sculpture that blur the boundaries between the organic and inorganic, natural and man-made.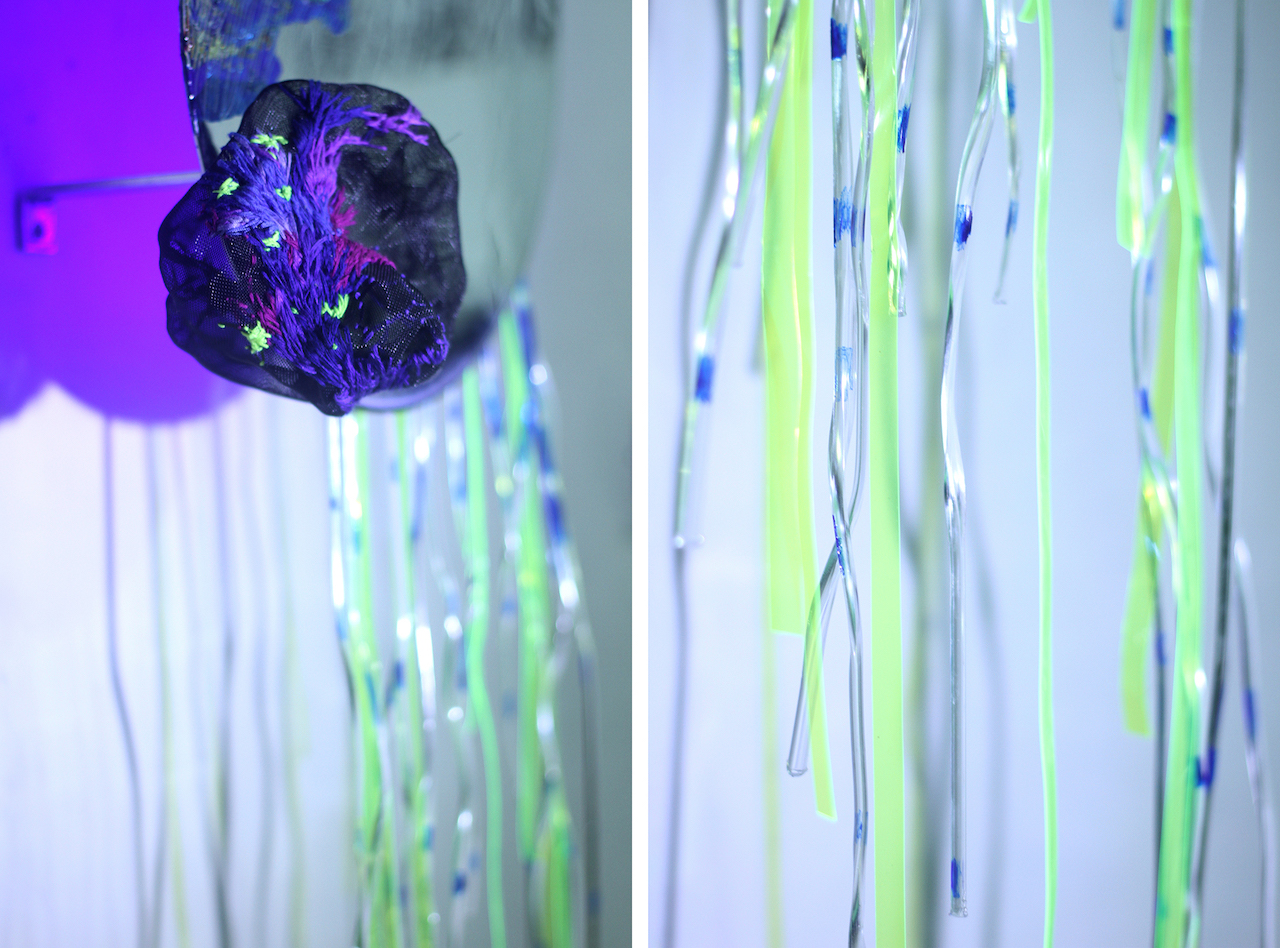 A raw shape made of black cloth emerges from a steel plate, which serves as the frame of the relief-like work. Hanging from this metal plate are long neon wires, glowing and dangling against the wall—creating a fluid shadow that resembles a creature at once beautiful, mysterious, and dangerous: the jellyfish. From behind, a soft indigo light radiates and gently illuminates the work, artificially mimicking the creature's natural glow.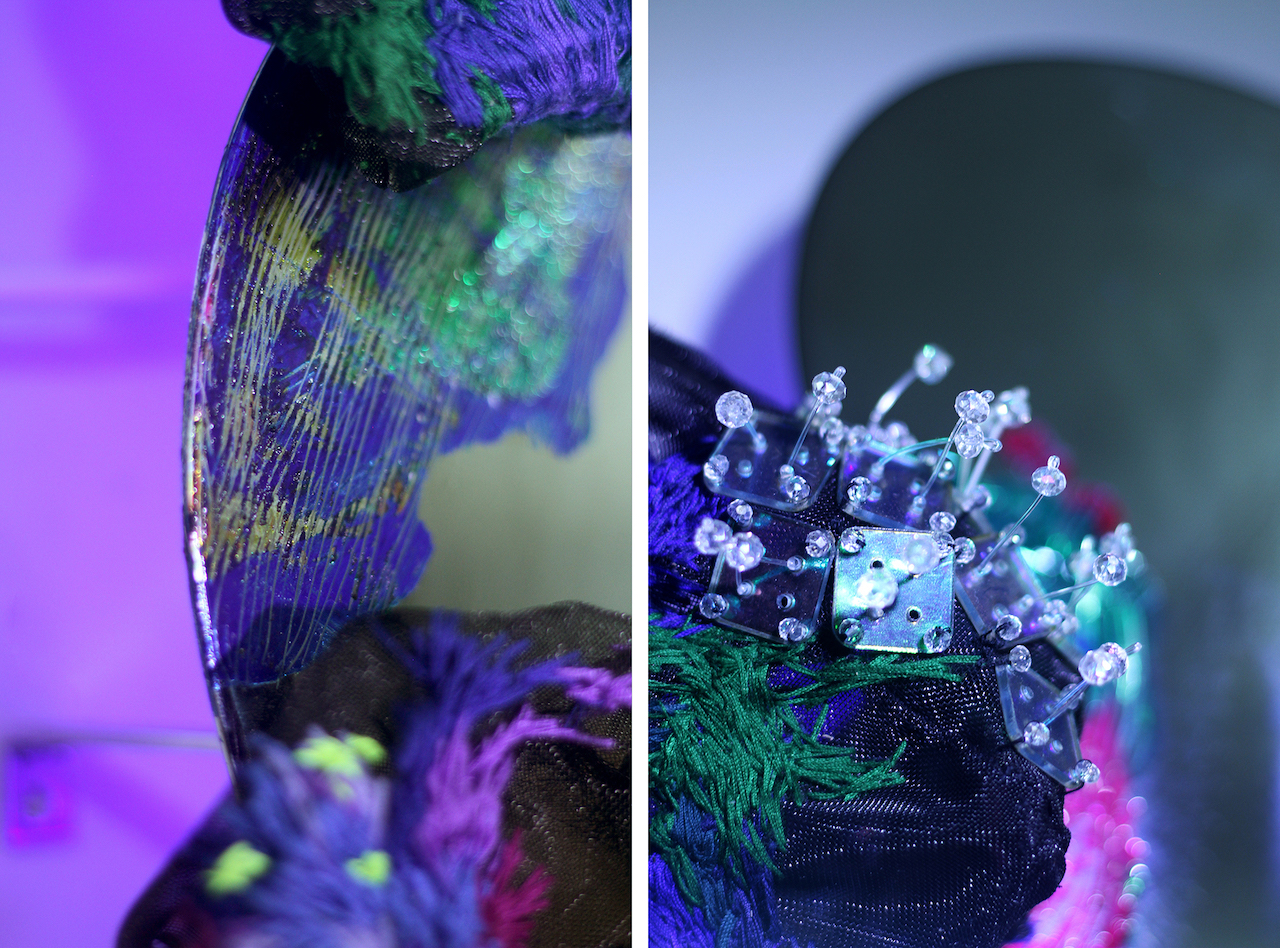 This sculpture captivates with its carefully placed, elegant contrasts: the hardness of metal with the softness of cloth; the deep, dark colors embroidered on the black cloth with the warm glow of the wires; the enigma and fluidity of nature with the certainty of technology. In this work, Fika seamlessly marries what we expect to be in constant tension and friction, creating a work that captures the essence of contemporary life—filled with hybrid elements and juxtapositions, constantly striving for harmony.