Suzann Victor
(b. 1959, SINGAPORE)

Suzann Victor is a Singapore born artist based in Sydney. Known for her monumental public artworks and context-based installations, she merges everyday architecture with both socio-political and scientific theory. The inventiveness of her work lies in her ability to articulate complex ideas in neat, grandeur forms, which often incorporate kinetic mechanism and technology. Dealing with relevant social subjects such as post-colonialism, the family unit and ownership, Victor's appropriately large-scale works pull the viewer into their world. They force one to acknowledge their presence and to see themselves not as an outsider, but rather as an inescapable participant of the work itself. 

Through dramatic devices, kinetic mechanisms and performance installations, Victor is one of the few artists that skillfully incorporates both mathematical precision and organic freedom in her works. To her, the distinction between science and arts is not clear. Instead, the available materials and techniques in the world simply allow for a multitude of artistic possibilities. 

Victor graduated with a B.A. Hons. (First Class), an M.A (Hons) and a Doctorate at the University of Western Sydney in 2008, after gaining an Associate Diploma of Fine Arts from the LASALLE-SIA College of the Arts in Singapore. In 2001, Suzann Victor was selected amongst other 4 Singaporean artists to participate in the 49th Venice Biennale, Singapore's first participation in the world's most renowned biennale and becoming the first woman artist to represent Singapore in this event. In 2009, Victor was also awarded the prestigious New York-based Civitella Ranieri Foundation fellowship following the completion of her doctorate on an Australian Postgraduate Award at the University of Western Sydney.
WORKS BY THIS ARTIST
BEAUTY PELTING SKY
2020
Oil on Canvas, 61 x 91 cm
Revisiting her roots as an abstract painter in the 1980s, Suzann Victor creates a vivid abstract landscape, combining thick, impasto textures of oil paint with softer, lighter surfaces that achieve a sense of balance and tranquility.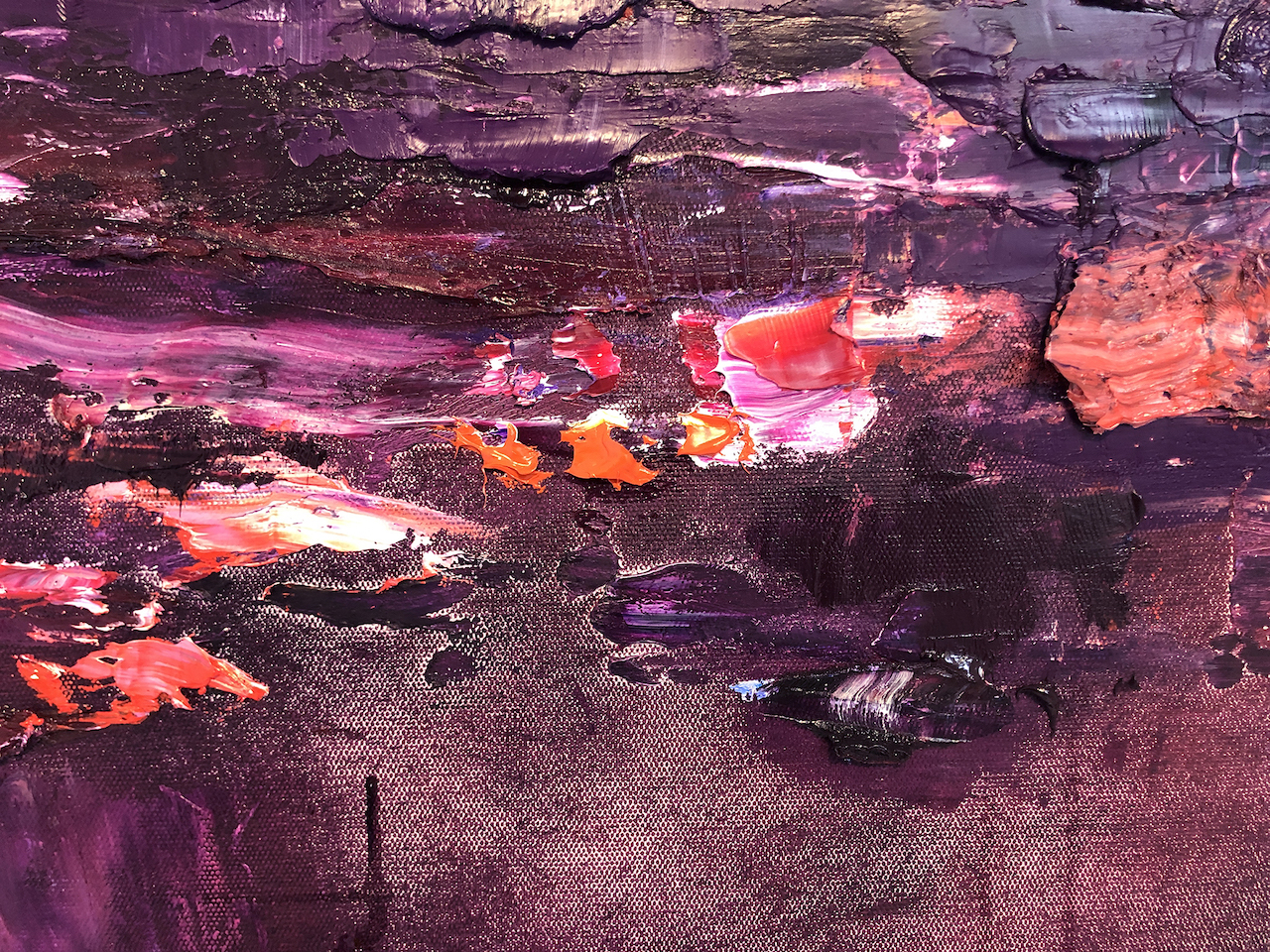 Deep, dark tones of violet and purple dominate, while horizontal pink and orange strokes bring accent and depth to the painting—evoking a mysterious, ethereal landscape, in which the ground and sky appear to blur into one. 

The title, Beauty Pelting Sky, is similarly abstract, pointing us to no concrete place, but instead, brings us to a state: in which beauty permeates and weighs down, like gravity, on our atmosphere. Taking us to a world beyond the physical, Victor plays with the free and infinite quality of our imagination—showing us that, despite the darkness around the world today, we contain in us the capacity to turn darkness into beauty, and dream of a world more sublime than our own. 
BRAVE MOODY STRANGE HAPPY
2020
Oil on Canvas, 152 x 60 cm
In this long, vertical abstract work, shades of deep blue and pale teal intertwine, forming loose, sensuous shapes and lines. The colours and gentle, formless flow of the painting evoke the freeing feeling of swimming in a vast and infinite sea, in which we are at once open and oblivious to the hidden creatures surrounding us. Welcoming the mystery of the ocean then becomes a poignant allegory to another strange world many of us are now forced to face: our very own interior landscapes. 
The title, Brave, Moody, Strange, Happy, at once communicates the complex, fluctuating feelings that many experience day to day, week to week—much of which were heightened during this pandemic. 

Yet, while confronting the very real, though abstract and intangible, emotions within us may be daunting, Victor shows us that something exquisite can emerge when we decide to dive into the unknown.