JANE LEE (b. Singapore)
JANE LEE is a Singapore-based artist known for her innovative materials and inventive techniques that explore the nature of how paintings are constructed. Lee employs the components and foundation of a painting, such as a stretcher, canvas, and paint, in alternative ways. Many of her artworks make use of moments as if falling, unrolling, hanging or sliding that often connote everyday objects. As Lee re-thinks the significance of Western painting practices, she simultaneously asserts her own culture as a Singaporean.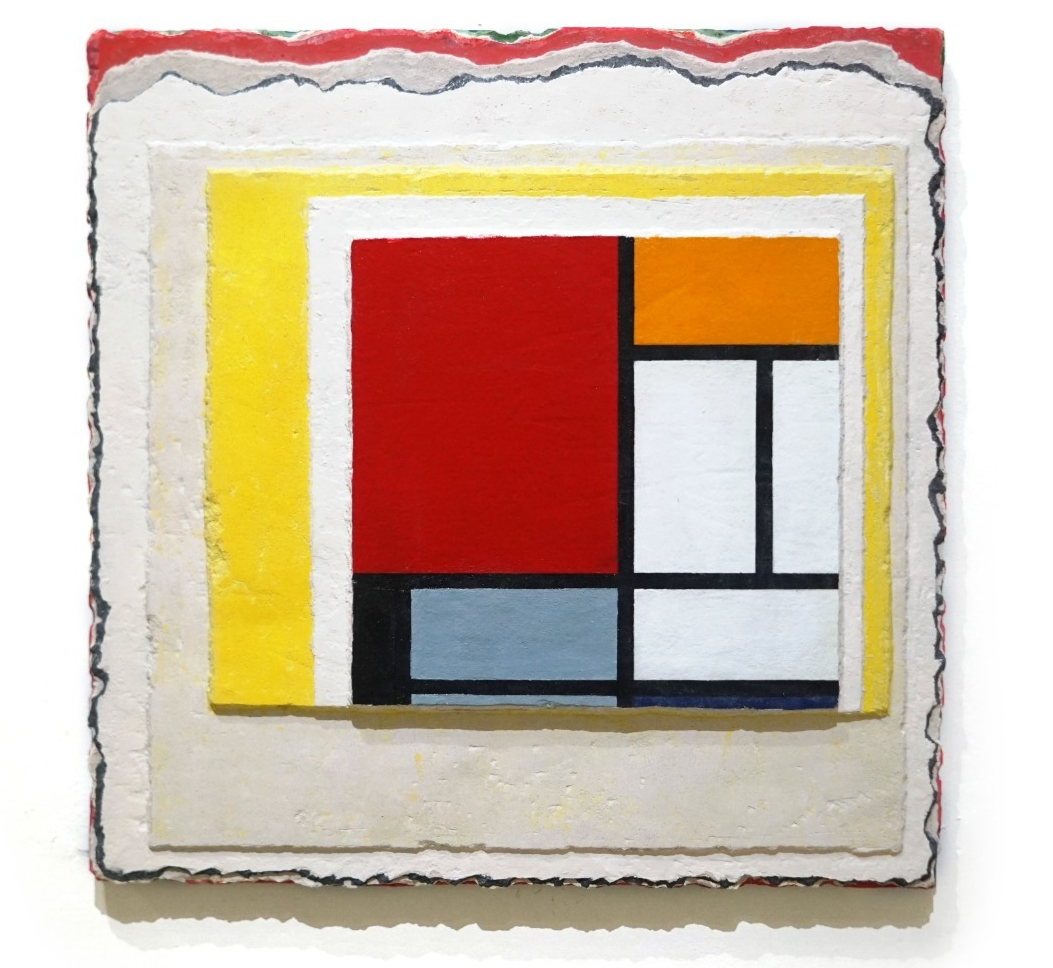 PIET MONDRIAN SERIES: NEGOTIATION
2020
Acrylic, cement, polyurethane fibre, concrete glue, and sand
60 x 60 x 5 cm
PIET MONDRIAN SERIES: CHIT CHAT
2020
Acrylic, cement, polyurethane fibre, concrete glue, and sand
Wall piece 62.5 x 62.5 x 5.5 cm | Table installation 80 x 160 x 35 cm
In a divergence from her existing oeuvre, Lee began collaborating with YAL in 2019 to create wall-based sculptural works from modelling clay, and later, cement. Challenging the boundaries between painting and sculpture, Lee's works created at YAL assume the physicality of sculpture while maintaining the illusory depth of the painted image.
---
PEARL EARRING 2
2020
Digitally printed canvas on pigmented concrete
33.5 x 45.4 x 17.8 cm
TRACES #1
2019
Modelling paste and pigment
20 x 15 x 3 cm
TRACES #2
2019
Modelling paste and pigment
20.5 x 15.5 x 3 cm
In this series, Lee references iconic 'masters' in western art history, from Johannes Vermeer to Piet Mondrian, that had subconsciously influenced her while she trained as a painter. Yet, as she emphasises their colours and textures and transforms these paintings into highly tactile, three-dimensional pieces, she removes the hallowed, aloof air often surrounding the actual 'masterpieces' in prestigious museums, and instead encourages viewers to engage with them in a relaxed way, as if they were ingrained in the everyday.