Musim Buru (Hunting Season)
2021
acrylic on canvas
120 x 120 cm
Kupu-kupu Sepanjang Pantai (Butterflies Along the Shore)
2021
acrylic on canvas
120 x 120 cm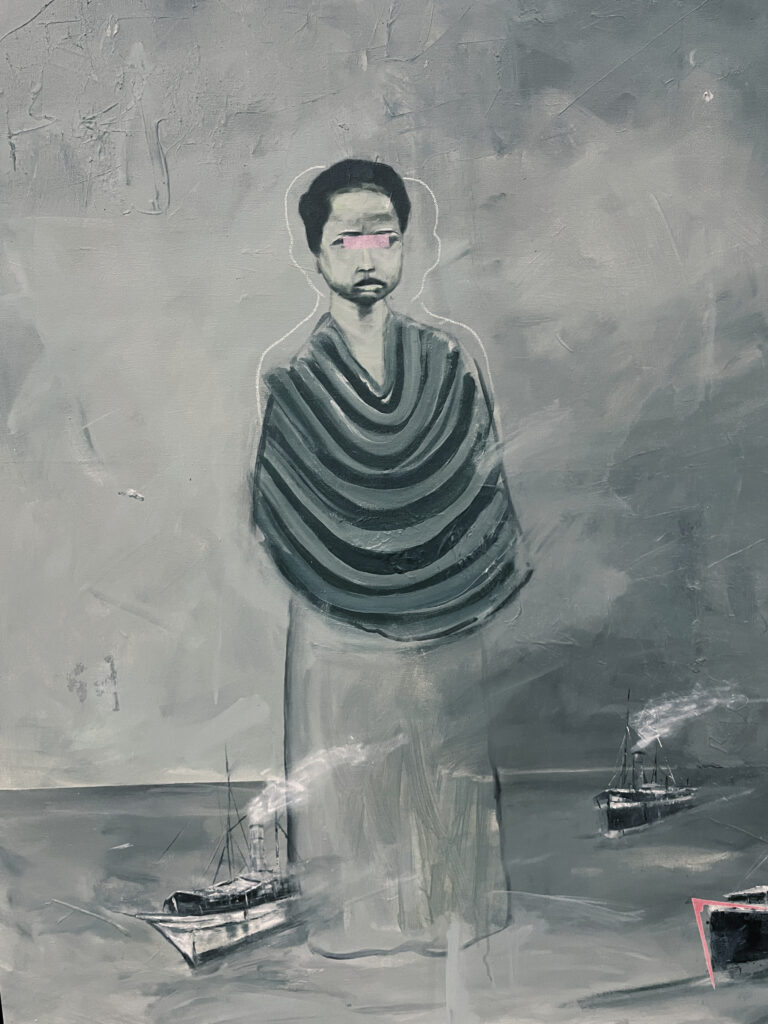 Apart from visual arts, Syam came from a strong background of theatre and poetry. Understandably, space becomes the main focus of Syam's artworks. Subjects and objects within his artwork are arranged like a stage set design. There are actors carrying out multiple gestures, and overlapping objects, with a somewhat random visual vocabulary. Syam invites the audience to connect the elements and make sense of the artworks through their own interpretations.
In his art-making process Syam always strives to recount the story of humankind and the trials and tribulations that they face. It could be because of his everyday role as a journalist that he feels the need to present his narration and imagination through figures and characters. For Syam, humans are reflective beings; they reflect every phenomenon through various means in order to represent their own lived realities. History, however, is not only about reflection but also very much about interpretation. The artist realises that history will always be subjective and one sided. Therefore, we have the right and obligation to imagine the past, to fantasise about it. Thus for Syam, his artwork is a form of historical fantasy.
Many of his artworks borrow images from Indonesian's historical archive, telling not only the heroism but also the irony and tragedy during the nation's fight against colonisation. Influenced by his upbringing in Gorontalo, a coastal city, there is a strong reference towards the sea as a poetic metaphor for many memories.
Musim Buru (Hunting Season) talks about the expansion and expeditions of colonial Europeans in the archipelago, driven by exoticism and the natural resources of the land; while Kupu – Kupu Sepanjang Pantai (Butterflies Along the Shore)'s title is taken from an Ambonese song that is popular amongst eastern Indonesians. It is tied to the artist's memory of going to Tomini Bay islands in Sulawesi, where that song accompanied the boat ride. He only realised later that the seemingly idyllic song was often sung by political prisoners and exiles at the infamous Buru Island prison. As a context, Buru Island prison was known to be inhumane where a lot of the inhabitants are actually activists, artists, and literatis, imprisoned without proper trial. One of the prisoners was the Nobel Prize nominee Pramoedya Ananta Toer.
The female figure in both paintings is an anonymous woman, painted after the likeness of a Gorontalo Woman photograph in Tropen Museum.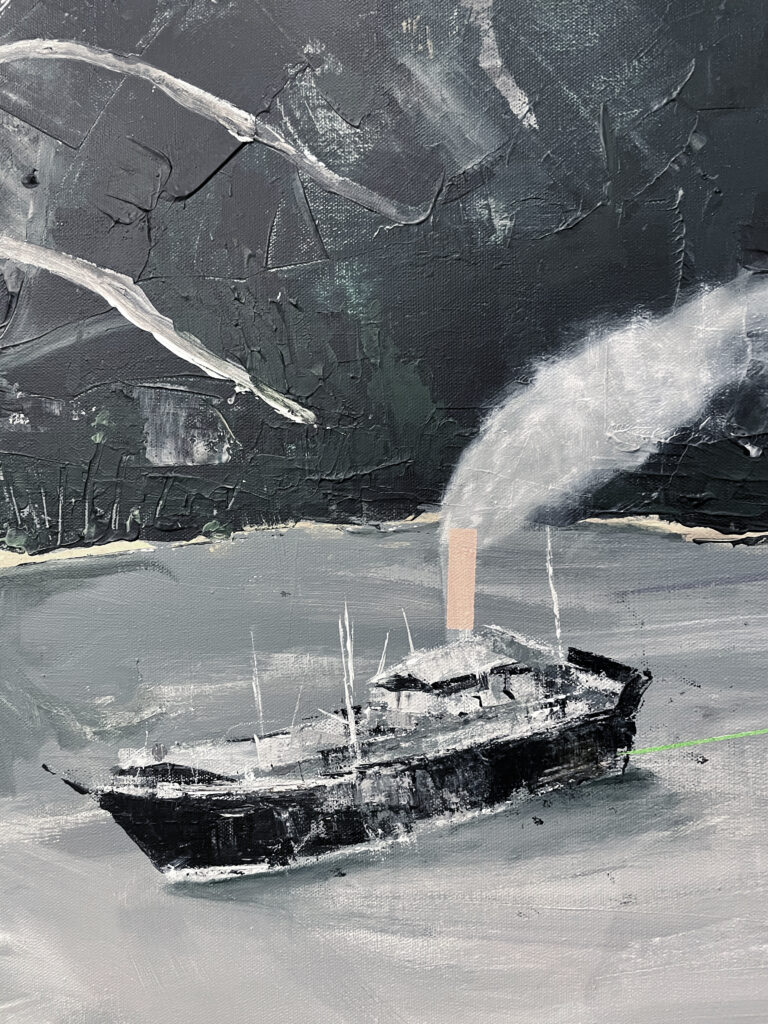 ---
Syam Terrajana (b. 1982, Gorontalo, Indonesia)
Syam Terrajana has loved literature since high school and started writing poetry since he was young. He has completed his comparative study on religion at Universitas Muhammadiyah Surakarta (2005). His poetry has been featured in a number of anthologies and print media, including Horison, Batam Pos, and Suara Merdeka. During his university days, he was active in Teater Ayat Indonesia and was involved as an actor and director in a number of repertoires. Terrajana was once a salesman for gas stove regulator, a drama teacher, and eventually a journalist at the Antara News Agency and a correspondent for The Jakarta Post for Gorontalo region. He is now an editor at an online and printed media based in Jayapura, Papua. He founded an alternative media: Jurnal Kebudayaan Tanggomo and DeGorontalo.
His encounter with visual arts was accidental, at first painting and drawing was just a leisurely activity in the middle of article deadlines. He has been continuing to paint since 2013 and has now relocated to Yogyakarta. In 2019 he became the finalist of UOB Painting of The Year, and has since had his solo exhibition "Pada Ruang yang Bercerita" at RuangDalam Art House, Yogyakarta.
---