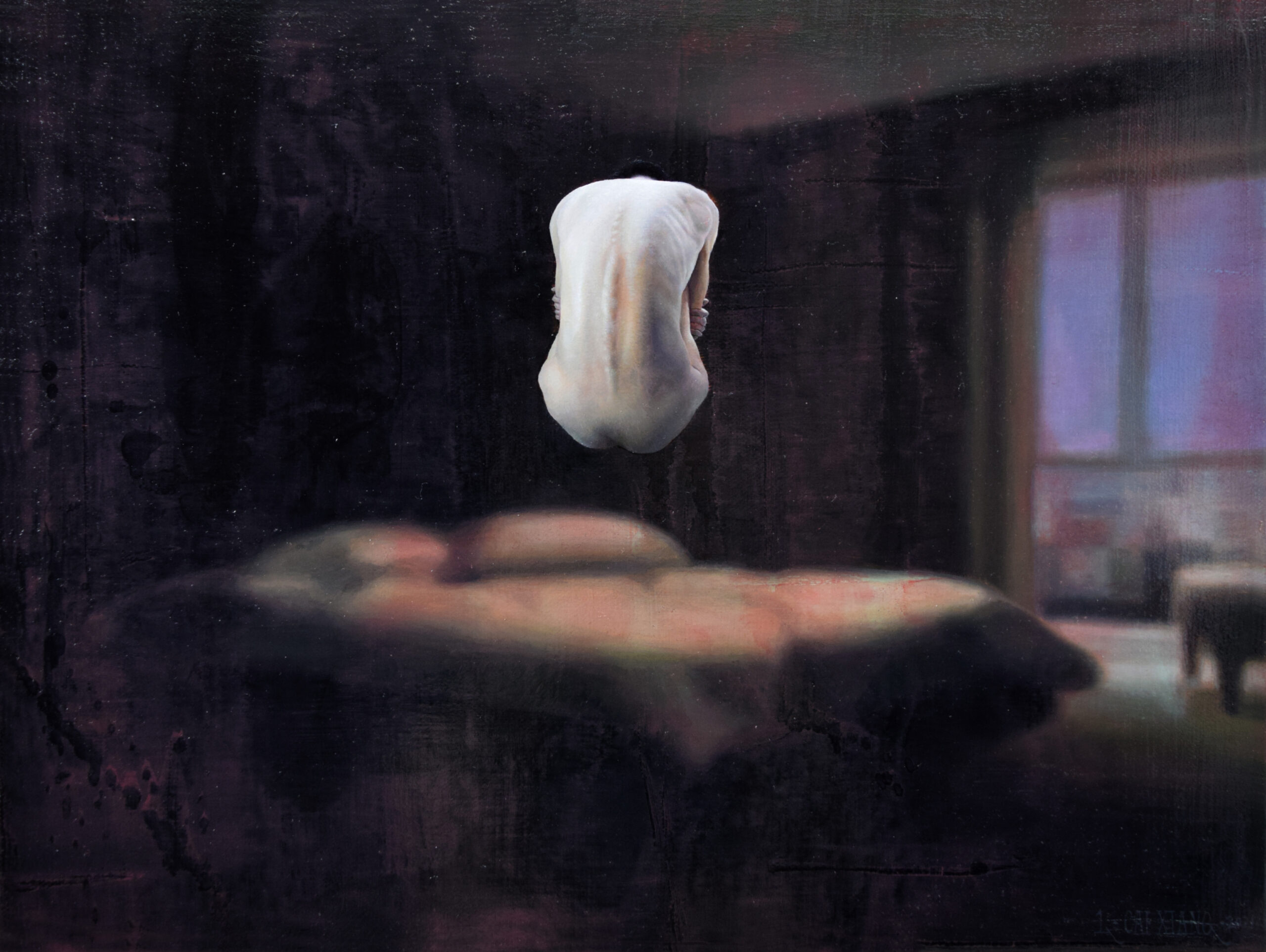 Broken Nights
2021
oil on canvas
30 x 42 cm
Crippled Days
2021
oil on canvas
30 x 42 cm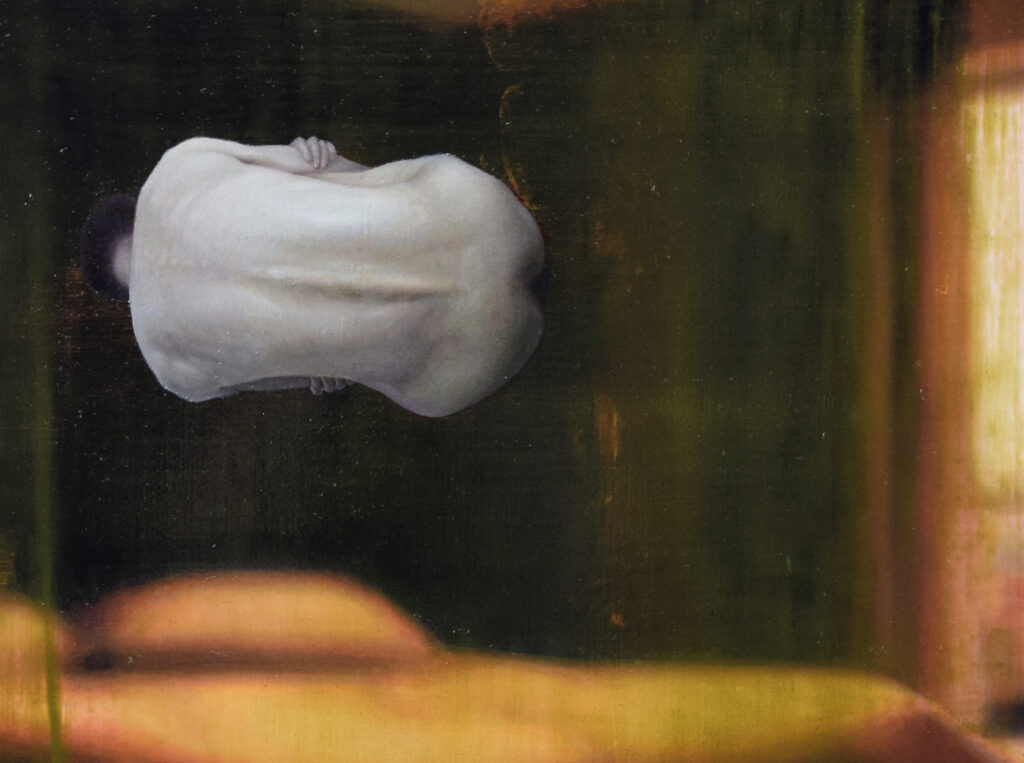 In Crippled Days and Broken Nights, Loi presents a duplicating surreal scene of a room with a floating figure on top; one during noon time and another during night time. Through this painting, Loi explores the tender side of human emotions that are not often talked about. The works capture the spirit of the times: in the midst of a pandemic, there are many unspoken feelings and unnoticed state of mind. These waves of emotions come in different forms, regardless of timing and situation; hopelessness inertia and lethargy at noonday bright, running thoughts, anxiety, and sleepless at night.
The surreal quality of this painting transcends the superficiality of physically realistic representation and connects on a more visceral level beyond specificity. The most corporeal element in this painting, the torso, is instead painted as the most non-present, emitting a peculiar lightness from its being.
The figure features a prominent and protruding spine. The spine is commonly associated with the symbol of power and pride. It constitutes the main structural support of the human torso, giving it vigour and stature. The seemingly delicate spine lies visibly close to the skin's surface, its contours seductively defined to establish a psychological bridge to one's mortality – a potent visual symbolism for strength and vulnerability. In Asian culture, expression and representation of male vulnerability is rare and often tabooed. The portrayal of a male figure in a foetal position explores the tender moment of male fragility, frozen in time.
Having gone through his own share of struggles, the artist wishes that the painting could provide a cathartic outlet and awareness of mental health.
---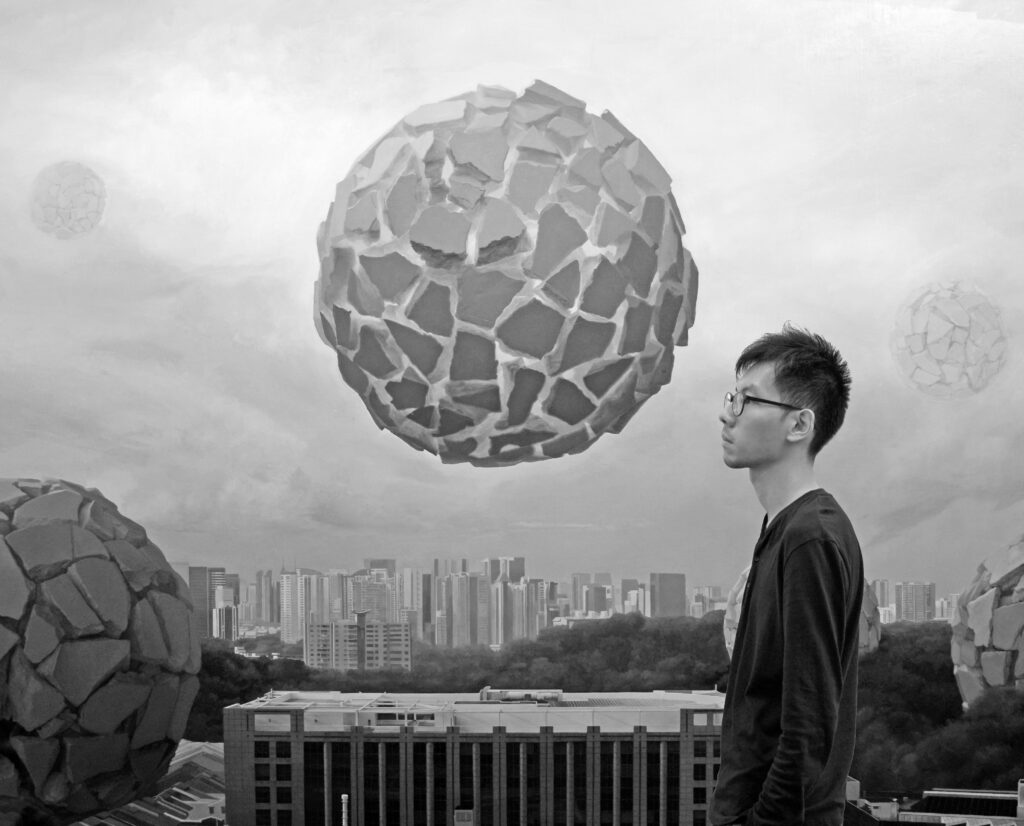 Loi Cai Xiang (b. 1992, Singapore)
Loi Cai Xiang is a Singapore-based visual artist, graduated with a Diploma in Fine Art, Western Painting (Distinction) from Nanyang Academy of Fine Arts (NAFA) in 2013.
He enjoys painting and finds pleasure in the meditative process of art making. He works mainly in oil and draws inspiration from his personal experiences and reflections of his environment.
Loi is a recipient of the Tan Chay Bing and Ngee Ann Kongsi Scholarships, and has exhibited in various exhibitions in Jakarta, India, Hong Kong and South Korea. He was also awarded the prestigious Clifton Art Prize in 2016 and has successfully held two solo exhibitions in Singapore with Chan+Hori Contemporary in 2017 and 2019. His works are currently collected by private collectors and corporations such as Cliftons and Asia Capital Reinsurance.
---