Bentang Tegalan dan Semangkuk Arang
(A Stretch of Moorland and A Bowl of Coal)
2021, Charcoal on Jute, Acrylic on Canvas, Charcoal, Lamp with Timer, and Sound Recording
Variable Dimensions
In some past records, Gunungkidul, Kukuh's hometown, is described as a fairly green area and has a diverse ecosystem. However, excessive forest exploitation during the colonial period until the end of the Japanese occupation brought Gunungkidul to an area that experienced Rock Desertification. The home charcoal industry that flourished in Wanalagi village during the colonial period was one of the factors in this incident which culminated into the critical barrenness of the soil around Wanalagi village coupled with the severe rat infestation in the 1960s.
Simbah (Grandfather) remembers how their charcoal industry left the land barren, hard, and full of stones (Tanah Tegalan/ Moorland) which he clearly remembers. The burlap jute sack is a symbol of the dying and disappearance of the charcoal industry after the end of the Japanese occupation. Kukuh's artwork Bentang Tegalan dan Semangkuk Arang, displayed together with recording of conversation pieces, is trying to narrate the nostalgic remains of the peak of the charcoal industry in Wanalagi Village.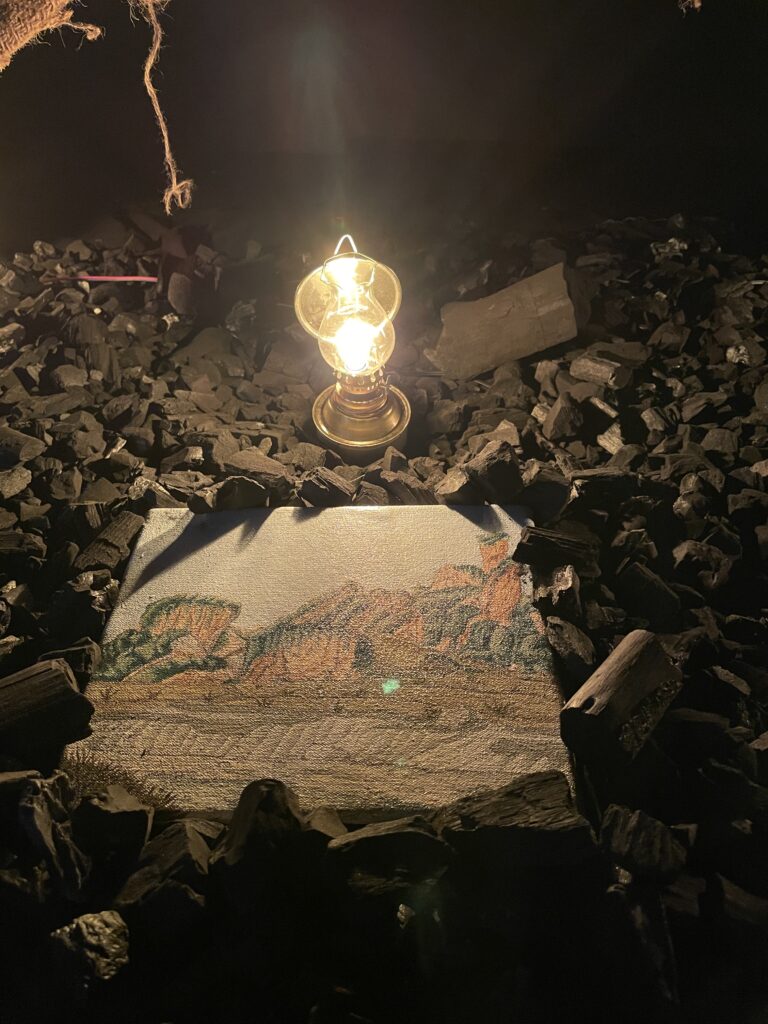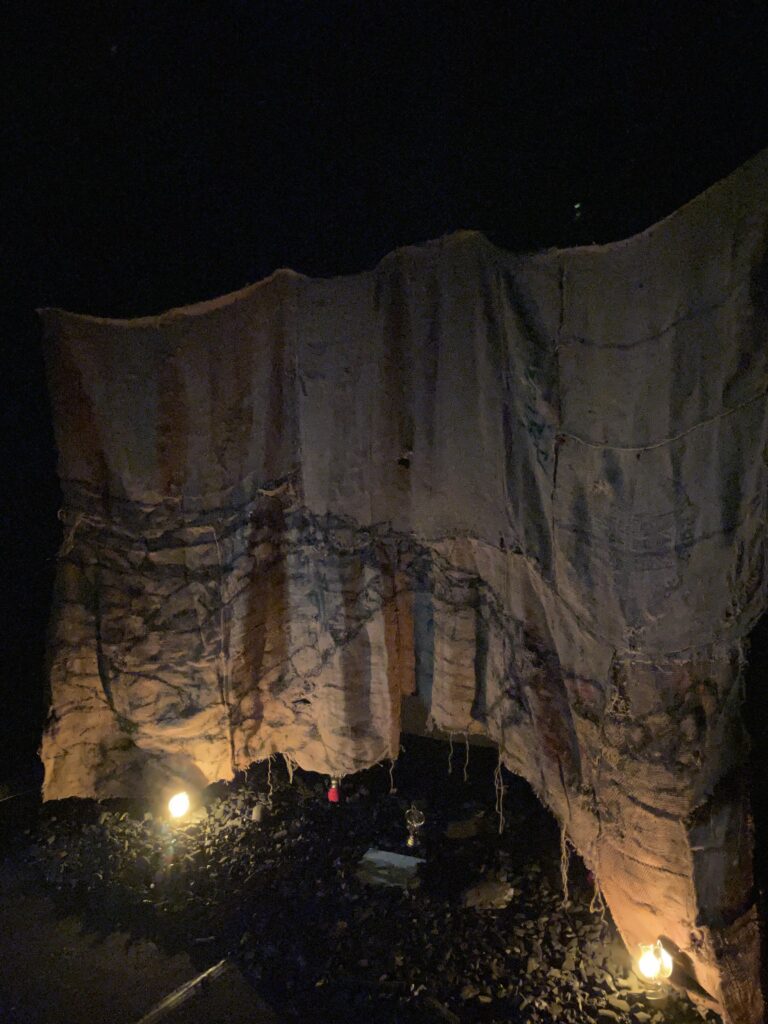 ---
Raden Kukuh Hermadi
(b. 1995, Gunungkidul, Indonesia)
Raden Kukuh Hermadi graduated with a bachelor's program majoring in printmaking from the Department of Fine Arts, ISI Yogyakarta. Kukuh creates cross-media artworks and explores the mythical or historical narrative of Gunungkidul. In the future, he wants to experiment with combining graphic printing with digital and mixed media.
Kukuh was recently featured in the ROOTS<>ROUTES BIENNALE Jogja XVI 2021, Jogja National Museum, Indonesia, and Asana Bina Seni Biennale, 2021. He has participated in exhibitions, namely Platform Perupa Muda Biennale Jogja XV at PKKH UGM in 2019; Paradox 2018 at Lawangwangi Creative Space, Bandung in 2018; and Bloom in Diversity by ISI and ITB at Balai Banjar, Sangkring, Yogyakarta in 2017. He also participated in several programs, including the Shared Residence-Poklong Anading at ARTJOG MMXIX 2019; WORK (IN) TITLE: SILANG TEMPAT Residency between the Faculty of Fine Arts of ISI Yogyakarta and the Faculty of Arts and Design of ITB, which took place in Bandung, as well as a joint exhibition with 40 nominees in Re-Mitologisasi, Basoeki Abdullah Art Award #3 Competition.