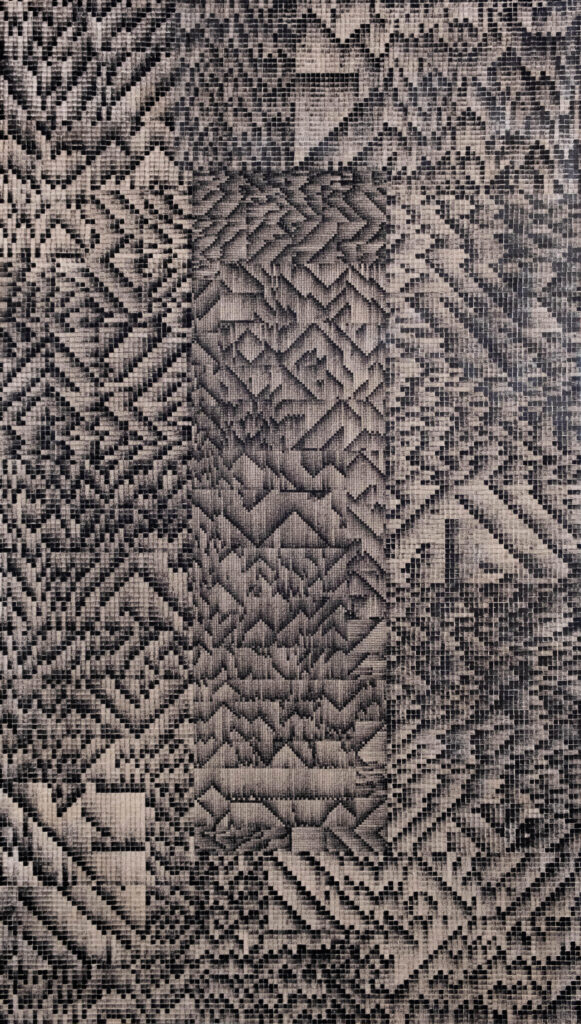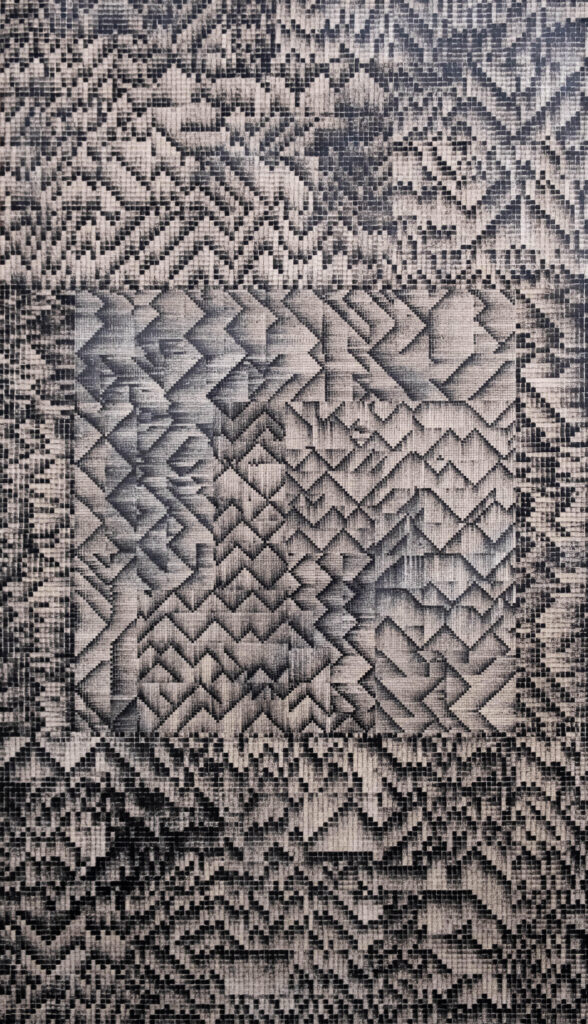 Obsession; Placement – Displacement I
2021, Chinese Ink on Canvas
210 x 120 cm
Obsession; Placement – Displacement II
2021, Chinese Ink on Canvas
210 x 120 cm
The pandemic finds its way to make visible the scales concerning the changes in one's routine, autonomy, privilege, privacy, and freedom; the very things that will shift one from the steady pace of comfort. As response to this, cautious or impulsive, one seeks refuge – reflecting and attempting to find order, assurance, and certainty, through the act of observing the placement and the displacement – counting silence; making peace, albeit an uneasy peace, amidst the position one is in. The obsessive rendering of miniature squares serves as Paul Nickson Atia's central motif since his latest solo exhibition entitled Form(s) of Prayer(s) at Rissim Contemporary in Bangsar, Kuala Lumpur from December 19, 2019 until January 9, 2020. Thousands of these miniature cubes represent a prayer, each monochromatic square is marked in varying intensity that mirrors his emotional state of being at the time.
Stepping back to see the big picture, one is presented with a barrage of grids and patterns. Devoid of any specific imagery, only visions of chants, prayers or zikir are depicted in fluctuating gradients. Non Believers in search of meaning may ask: can we see God? And those of us with faith, trust that the Almighty is with us. "The Obsession series is like a formation of a new faith and a reaffirmation of faith," says Atia. For Atia, Obsession: O, Perpetual provides space for contemplation within the realms of prayer. A blank rectangular shape is placed perpendicular in the centre making it a focus for devotion and contemplative prayer.
---
Paul Nickson Atia
(b. 1992, Kuching, Sarawak, Malaysia)
Paul Nickson Atia is a contemporary artist from Kuching, Sarawak, and currently based in Petaling Jaya Selangor. Upon completing his degree in B.Sc. Architecture from University Of Malaya (UM), Paul practiced at a local architecture firm PORT25 and was a part-time tutor at Taylor's University School of Architecture & Building Design for several years, before turning his creativity towards paintings and drawings.
In his debut solo exhibition Jari Berlari at Galeri Rumah Lukis in 2018, Paul exhibited a series of drawings and sketches of buildings and cityscapes around Kuala Lumpur, Penang, and Kuching. Jari Berlari also marked the introduction of his OBSESI/OBSESSION series, which he further explored in a solo exhibition, FORM(S) OF PRAYER(S) at Rissim Contemporary in 2019. The series explored his interest in the concept of prayers through his use of repetitive elements. The works were manifested as questions and tributes, paying respect to the concept of prayers – whether the reaffirmation of faith, or formation of a new faith.