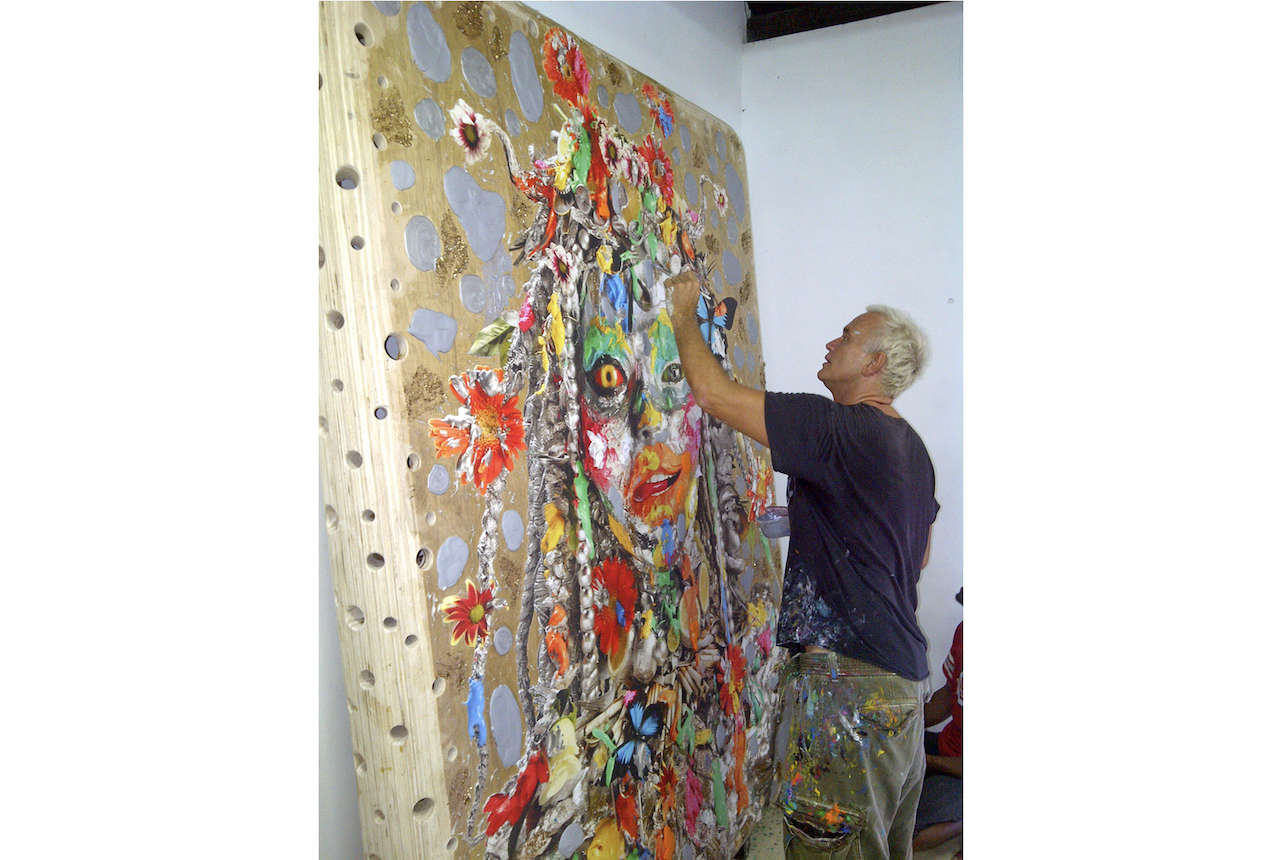 ASHLEY BICKERTON
(b. 1959, BARBADOS)

If Ashley Bickerton were to be described in one word, it would be Diaspora. Having moved house across four continents while growing up, and migrating permanently from America to his current residence in Kuta, Bali, Bickerton's peregrine lifestyle has been a central influence upon his compositions. As a fresh graduate from the California Institute of the Arts in 1982, Bickerton's career began in New York where he was a member of the famous Neo-Geo Group during the 1980s.

While in America, his compositions featured industrial materials, found objects and screen printed images such as corporate logos titled as 'Anthropospheres', 'Commercial Pieces' or even 'Self Portraits'. Following his emigration from the US to Bali in 1993, Bickerton has remained in touch with the western art scene through the internet and his work. On his decision to isolate himself from the local art scene of his adoptive home in Bali, he states "I stay away from Ubud. There are too many artists there. I set up my studio so that when you close the doors, it could be a studio anywhere in the world. It could be in Williamsburg or Silverlake. I can't stand the idea of making art as wispy exotic and escapist kinds of things." 

His work consistently demonstrates a critical awareness of his surroundings, especially about social issues. In his studio of elaborate sets, Bickerton carefully places his garishly dressed models carefully into these settings and photographs them. He then transforms selected shots into inkjet paintings on canvas, which he further manipulates by applying pigments and adding found objects by hand. Ashley's work is synonymous with colour, vibrancy and strong undertones of anti-consumerism. This can be identified through his use and portrayal of natural and organic items like coconuts or waste-trodden landscapes. Staying true to his neo-geo roots, Ashley uses his locale as his inspiration – tropical and sunny Bali with the exoticism and mystique that he articulates through his hands. Swaying trees, flowers and serpents dotted his works, seemingly as if he was peering out his window in Bali while he goes about formulating new sardonic ways to slander society and even himself. 

Grotesque, crude but surprisingly eye-catching, Ashley will remain relevant and enterprising as the world ages and continuously degrades ironically from humanity's progression.
---
WORKS BY THIS ARTIST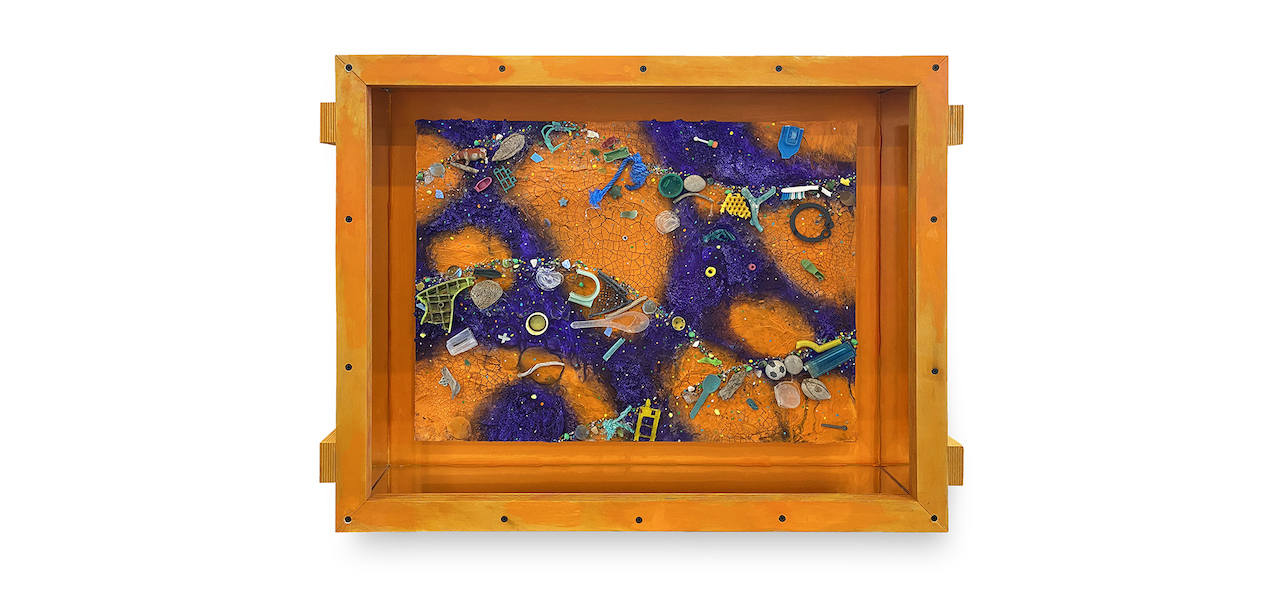 SMALL FLOTSAM PAINTING (ORANGEPURPLE) 
2020
Acrylic and Found Beach Flotsam on Canvas Board with Artist Made Plywood Construction
60 X 79 X 14 CM
Created in Los Angeles, Small Flotsam Painting possesses subtle, yet significant differences from Ashley's works in Bali. There are no blue or silver bodies in sight, no sordid bar scenes or satires on exoticism. Instead, a brightly colored orange and purple canvas serves as a backdrop to an abstracted display of beach flotsam: plastic spoons, pieces of rope, tiny rocks and broken toys. 
In making the most miniscule of the dirty and discarded around him the main attraction, Ashley draws our attention to the histories attached to these objects, refusing to deem trash as meaningless. These small and used trails of objects we leave behind are in fact profoundly revelatory—indicating the aftermath of myriad interactions between people, objects, and actions at a certain time and place. 
The flotsam Ashley presents compels us to contemplate both the tangible and tangible traces we will leave behind during this historic time—from the wrappers of our favourite chocolate bars, to the mindless words we put out to the online world. These, on most days, seem like nothing to us—but whether in the near or distant future, they will serve are crucial reminders that we existed and lived.