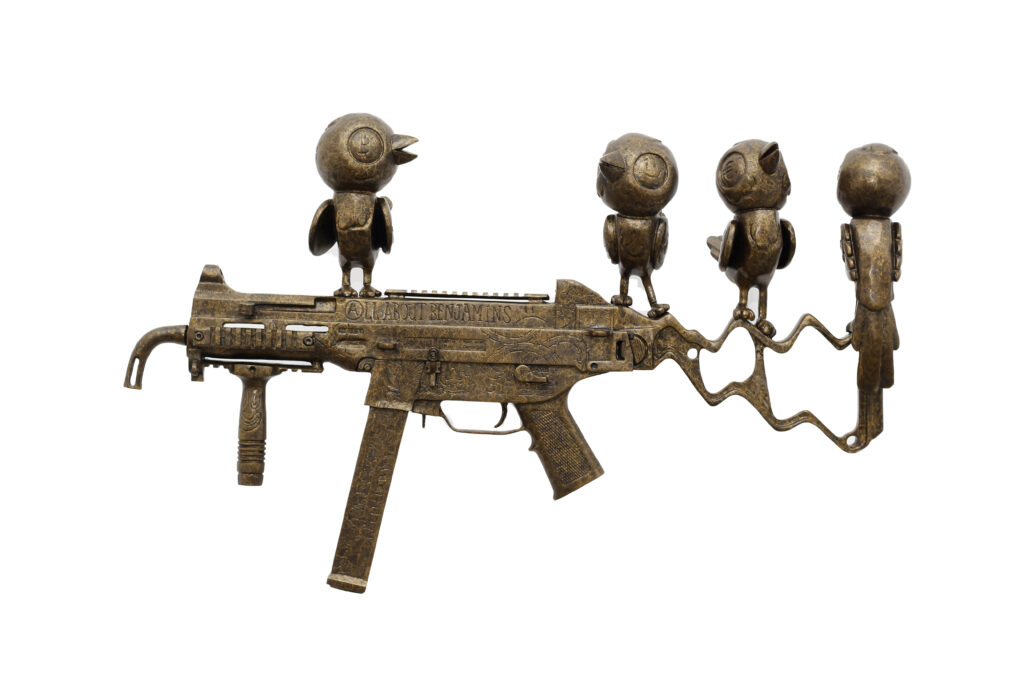 The Irony of the Protester (HK UMP 40 series)
2021
cast bronze, 49 x 72 x 12 cm, edition of 2 and 1 artist proof
Uji 'Hahan' Handoko's practice has long been centred on exploring paradoxes within the art industry, oftentimes incorporating recognisable symbols – an auction paddle, logos of established art institutions, for instance – on his polished bronze sculptures.
While in this sculpture references to the art world may not be as overt, one can find traces of it in subtle details engraved on the gun, such as a seemingly innocent picture of a landscape – an iconic motif in Indonesian art history. The juxtaposition of the landscape beside the idiom "All about Benjamins" opens up a conversation on the capitalist nature of the art world; while the title Irony of the Protestor adds another layer highlighting the ironies of the idealism of those attempting to dissent within it, wherein one can easily, (and quite literally – as seen in the birds chirping above the gun), be blinded by the rewards of money.
---
Old World Totem
2022
non-fungible token
single channel video, 1:00 runtime, 1920 x 1080 pixels
edition of 2
The main subject in this work draws from a collection of objects that serve as symbols of legitimacy in the traditional art world, the world before Metaverse: logos of major art institutions that legitimise an artist's repute, symbols of the three strongest world currencies, paddles of global auction houses that represent the legitimacy of an artwork's value in the market.
This collection of iconographies is embellished on several parts of the totem stack—an imagined object of worship. Evoking what some cultures use as vessels for ancestral spirits, Hahan uses the totem symbol to excavate deep-rooted beliefs in the art world, reappraising what has long been considered sacred and powerful.
The glowing arrows stabbing into the totem represent the new technologies and value recording systems that are developing today. Blockchain and cryptocurrency are arguably shaking the existing financial system—and could potentially dominate the future.
Yet the position of the totem floating and oscillating in the galaxy was a deliberate visual choice of Hahan: it represents a transitional period; the co-existence of  the mainstream system, which has long operated on a hierarchical structure; and new technology, which strives for 'common power' and self-governed currency.
---