In one of our interviews, artist MAHALAKSHMI KANNAPAN mentioned a delay in procuring charcoal powder for her works. It was caused by the lockdown on travel not only between India and Singapore but for the rest of the world. This mundane fragment from our conversation came to mind while perusing images of works for her solo exhibition. Charcoal speaks to various aspects of Mahalakshmi's practice not only because it is her medium of choice but that it also references the flows and currents in the act of making. While the pandemic brought the world's frenetic rhythm to a pause, making in all ways and forms did not cease. It is through creation that we intervene in the world, and through the act of making that we can render in tangible form our imagination of how else it can be.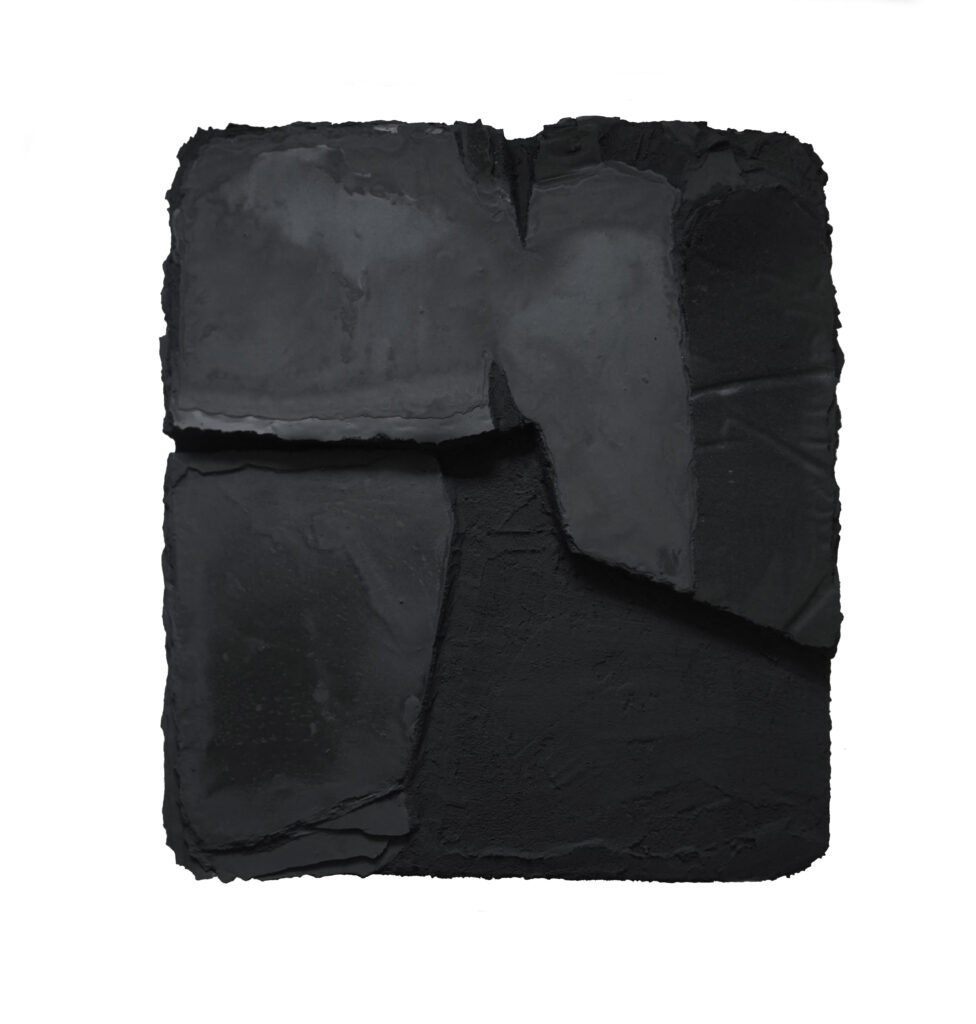 THE CREVASSE III
2020
Charcoal on wood
102 x 92cm
Mahalakshmi's use of charcoal is rooted in drawing but she discovered her material in depth when she began to mix charcoal powder with oil, water, and latex. This resulted to varying consistencies whose fluidity and suppleness allowed greater exploration of form. This malleability has always been a source of fascination for her. Writing about her Fine Art thesis project in 2018, she mentioned experimenting with materials like charcoal, rope, cloth and wire because "exploring and expanding [them]…" allowed "the materials…to exhibit a peculiar attribute." These resulting qualities borne out of processes that altered inherent characteristics were well suited to articulating complex emotions like "fragility, fluidity and (in)stability." This transformation emanates from and results to a complex 'force field'; where the artist adds, subtracts, integrates or intervenes in a chain of exchanges and flows.
Excerpts from Bringing Things Back to Life by Tessa Maria Guazon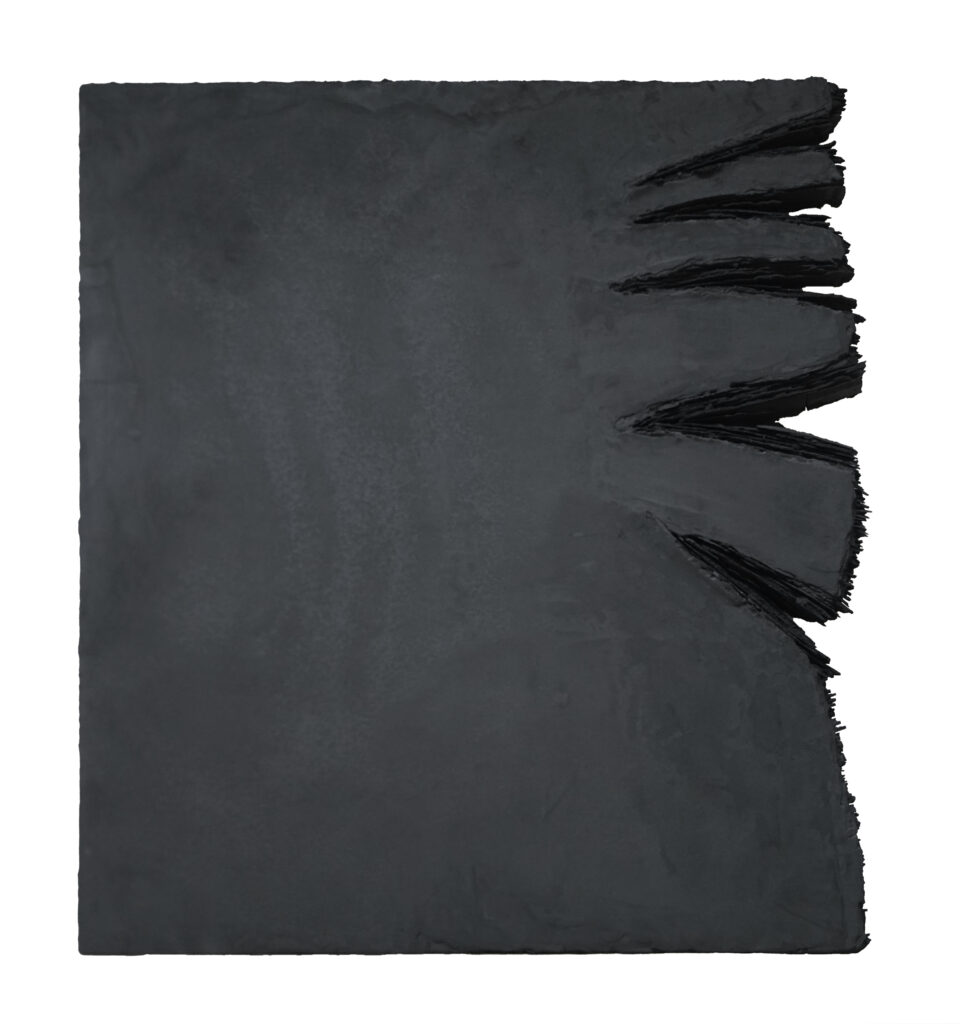 THE CREVASSE I
2020
Charcoal on Wood
103 x 93 cm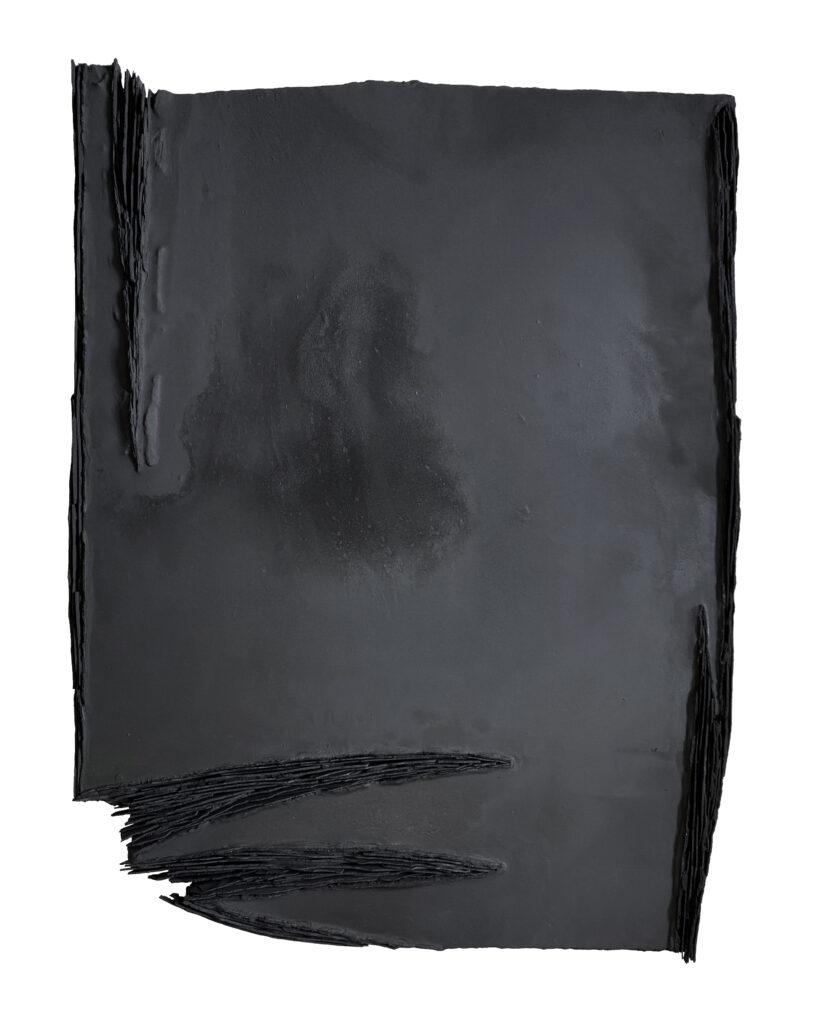 THE CREVASSE II
2020
Charcoal on Wood
125 x 95 cm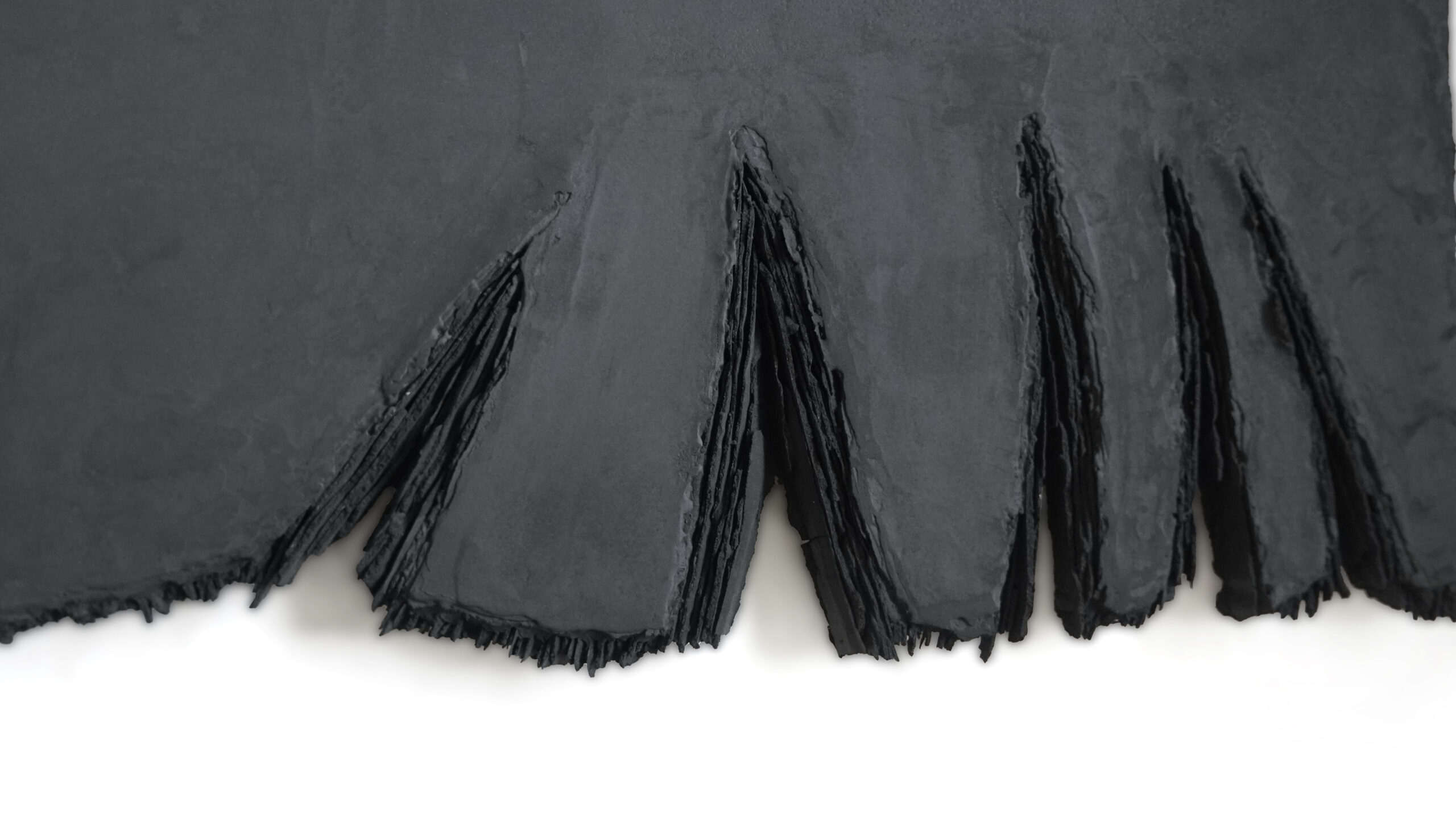 Charcoal's hue and tones symbolized for Mahalakshmi the diversity of cultures. While her initial experiments with charcoal referenced her migration to Singapore from India, her later works were mostly about its inherent expansiveness. She further underlines this by claiming a "strong feeling that the multi-dimensional nature of several materials serve as an impactful conduit to articulate my thoughts." While her earlier pieces reference difficult and complex emotions, her recent works explore possibilities that material allows. This trajectory can be discerned in the articulated surfaces and a resounding emphasis on plasticity in her pieces.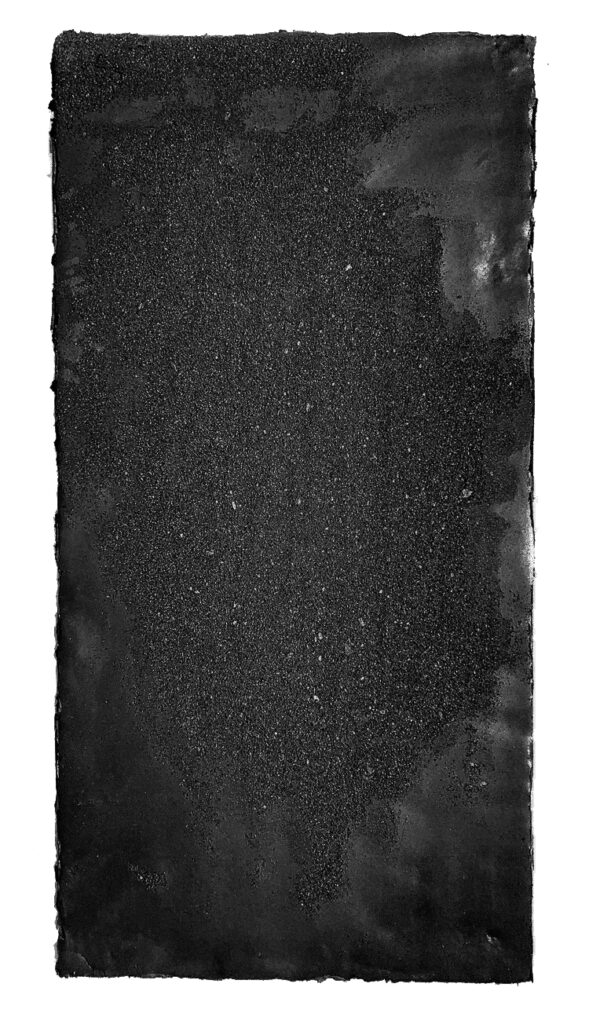 THE BLOTCH I
2020
Charcoal on canvas
102 x 52 cm
---
A related perceptual register points to the transformation the artist
wields on charcoal powder; from granular to sculptural, and from dispersal to compact mass. While perceived solid and whole, her constructions and forms signify an underlying fragility. Yet this delicate quality is part of the tension that keep structures intact, a force similar to the balance of order and chaos that allows ecosystems to thrive and grow.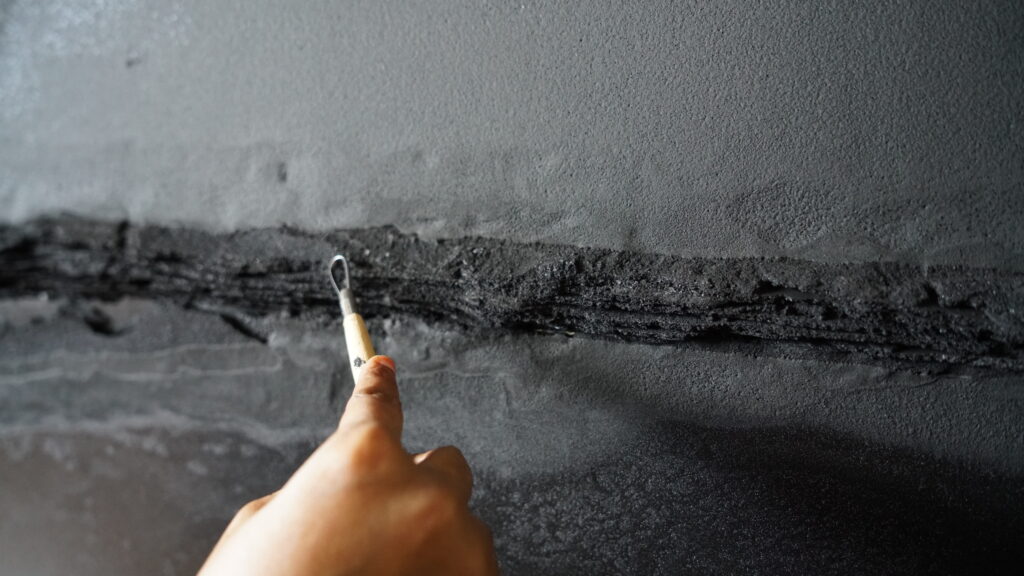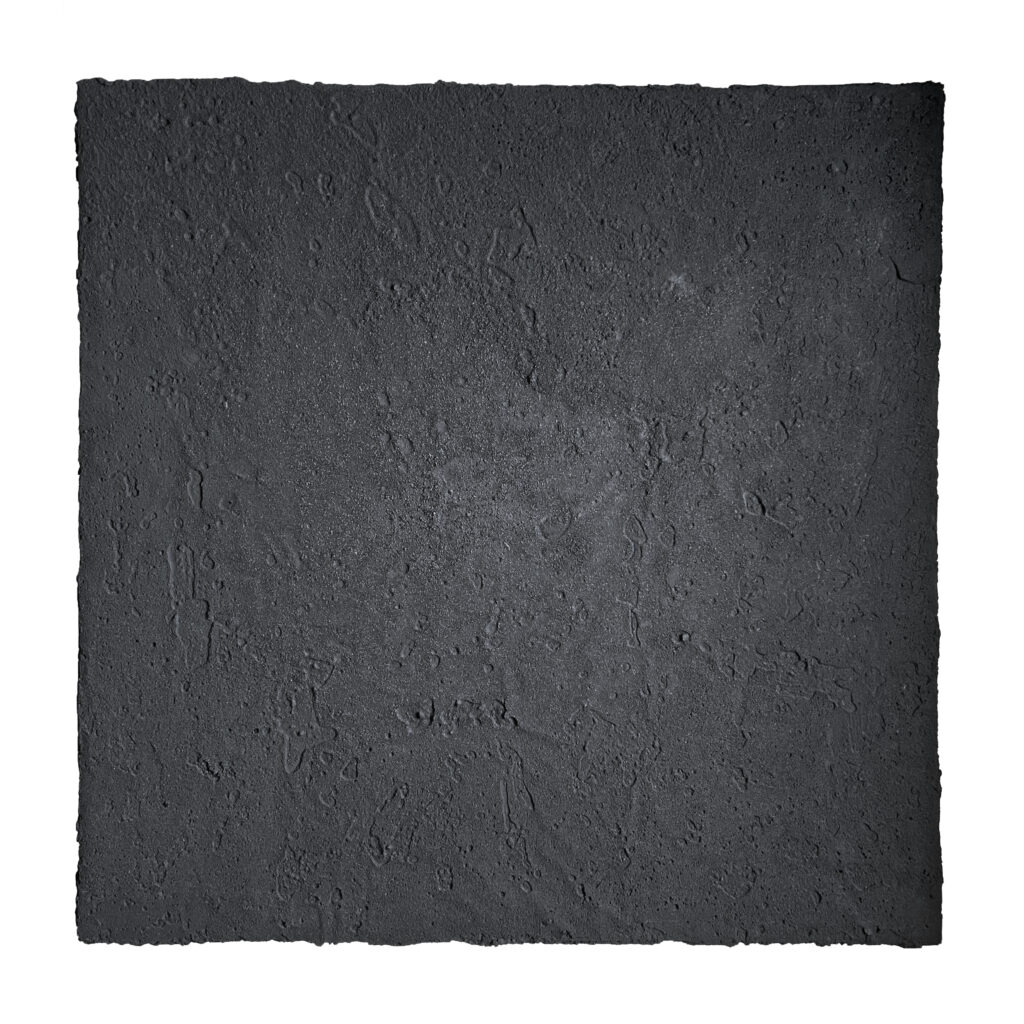 THE BLOTCH II
2020
Charcoal on canvas
120 x 120 cm
THE BLOTCH III
2020
Charcoal on canvas
123 x 100 cm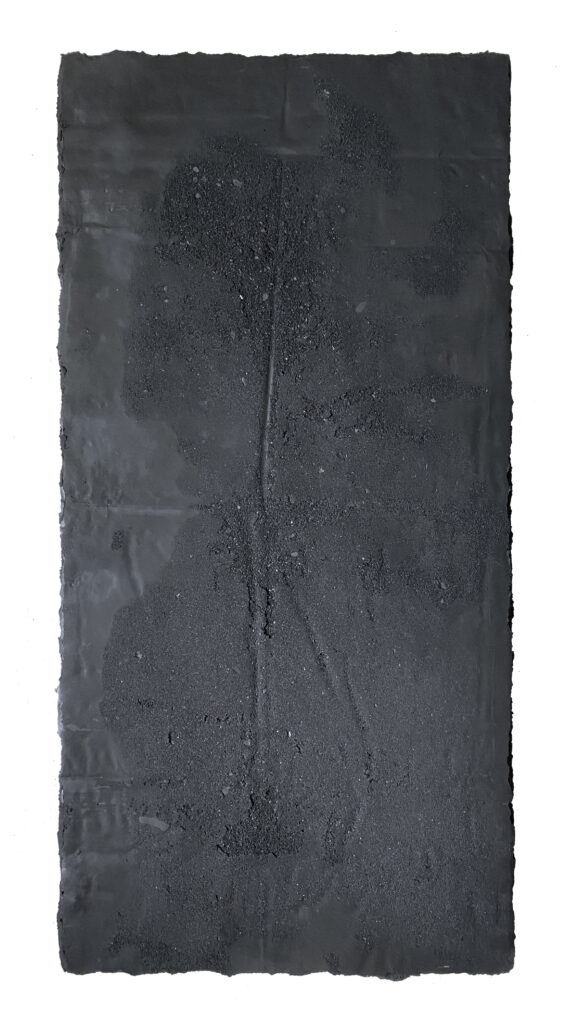 THE BLOTCH IV
2020
Charcoal on canvas
123 x 93 cm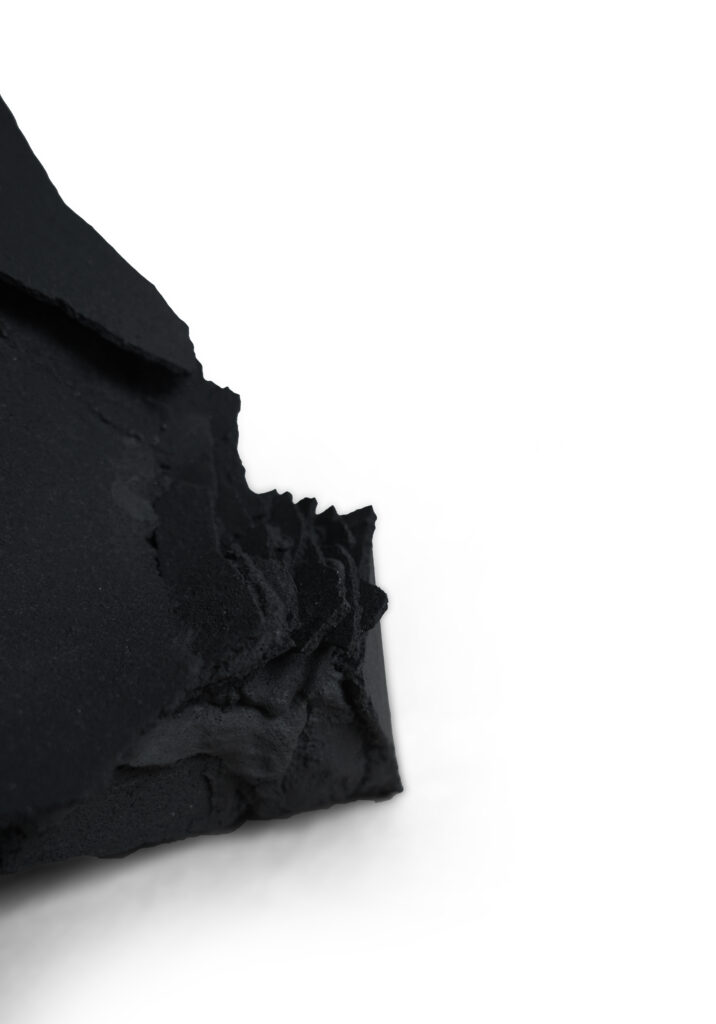 Read more about our interview with Mahalakshmi Kannapan here.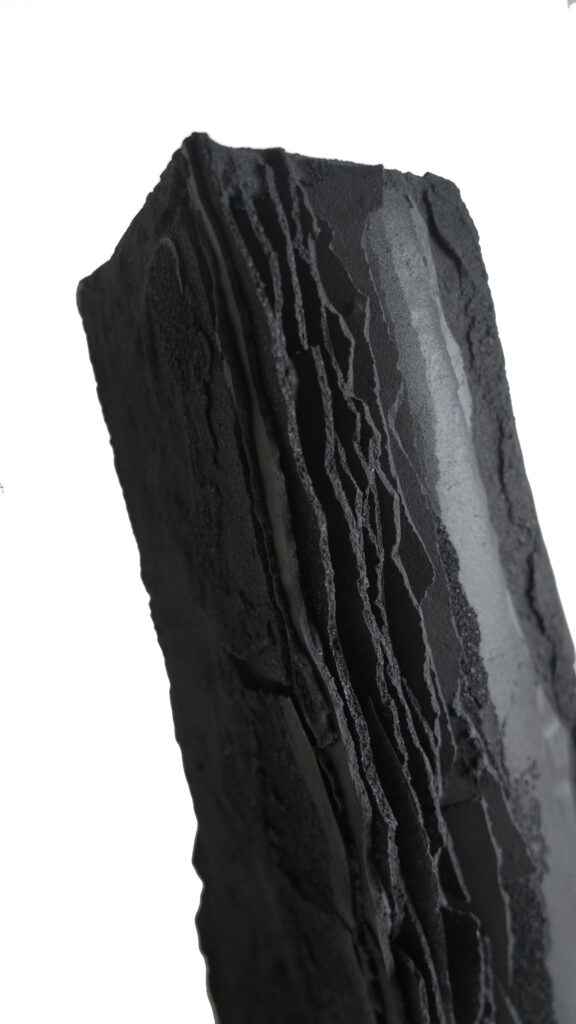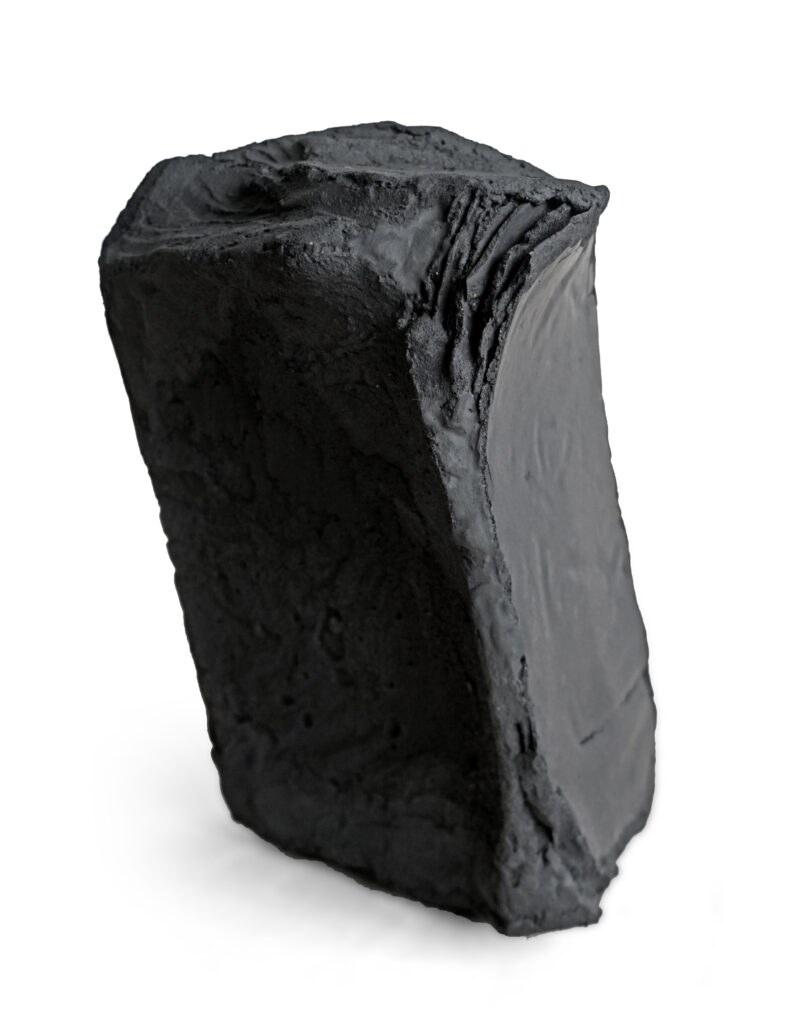 SHREDS I
2020
Charcoal
36 x 26 x 27 cm
---
Her De-Cipher series from 2019 evinced a layering technique that produced tactile surfaces of furrows and folds. Edges and surfaces were not demarcated or contained, but were instead marked by ridges and creases. She works charcoal powder with combined precision and intuition, without using formulas for mixing her base materials. She transforms charcoal into various viscosities: gleaming liquid that flows, grainy lumps that mass, and thin layered sheets that are compressed with portions that can be broken off and assembled into different configurations.

SHREDS II
2020
Charcoal
48 x 27 x 17 cm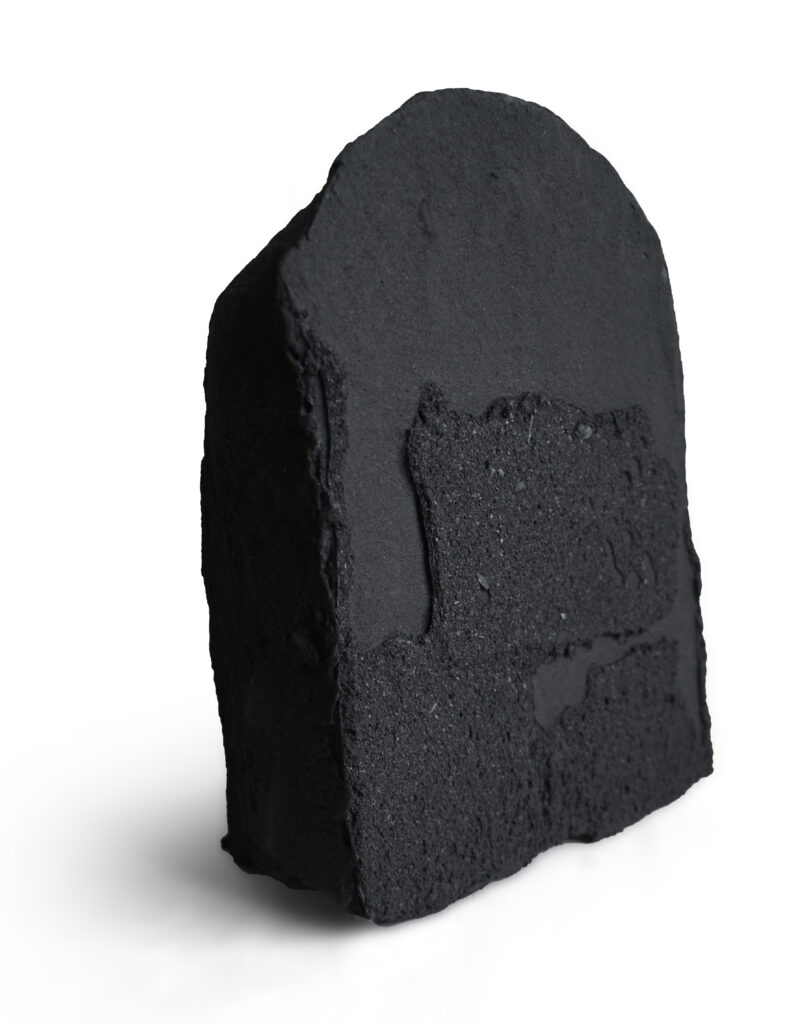 SHREDS III
2020
Charcoal
43 x 29 x 34 cm
SHREDS IV
2020
Charcoal
25 x 56 x 8 cm
The surfaces of her works receive light in curious ways, reflecting a subtle range of grays from industrial tints like slate, iron, and metal grey to a softer palette like feather or dove grey. These references to hues and tonal values evoke cycles inherent to materials, encompassing transformation and synthesis from nature to industry, from growth to death, from raw to refuse, then back again. These cycles make us discern that the states and properties of materials are not fixed but are mutable.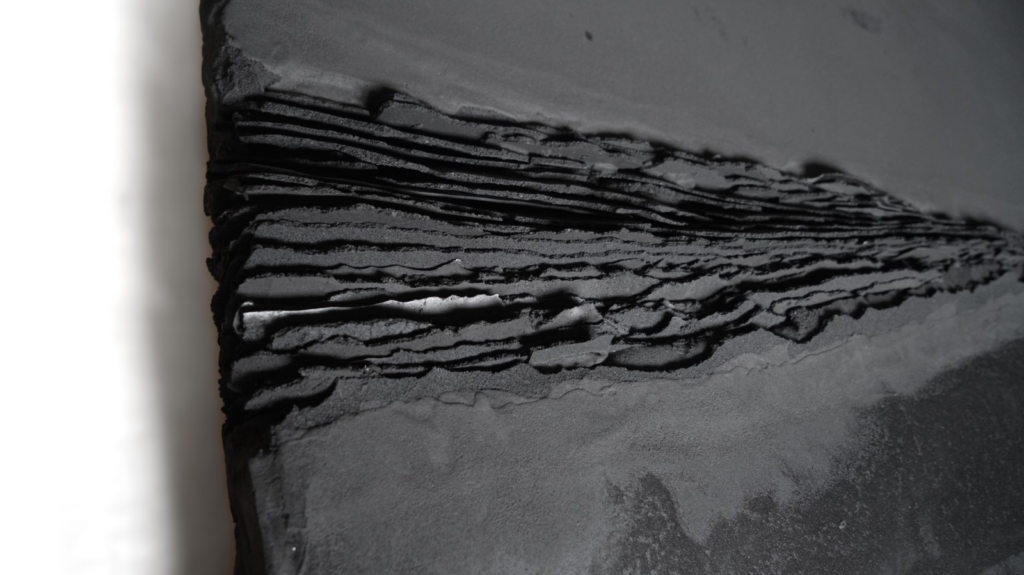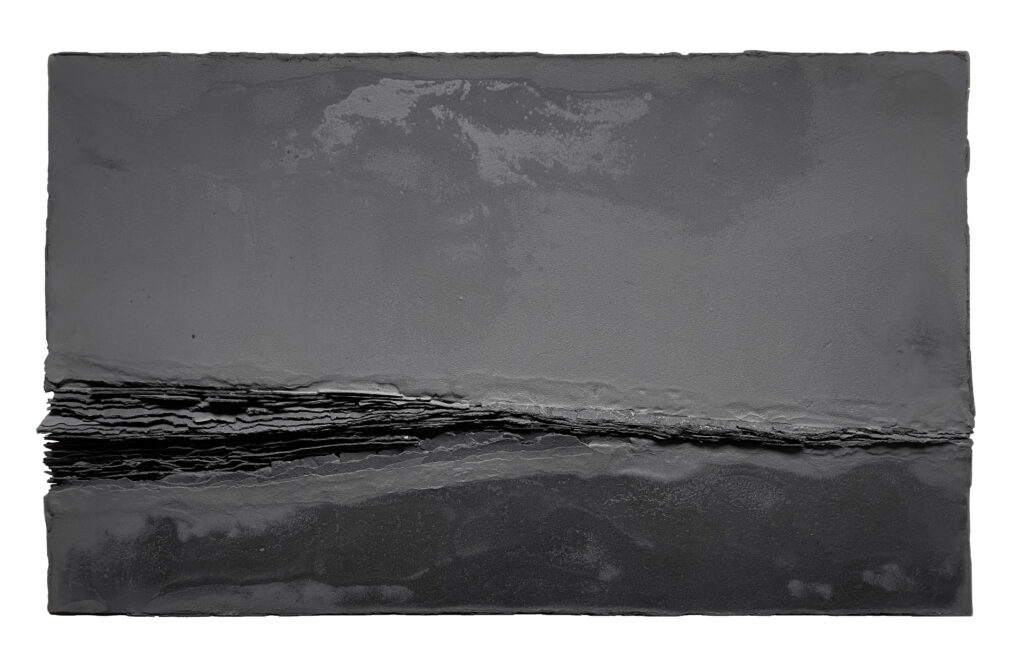 THE CREVICE I
2020
Charcoal
43 x 29 x 34 cm
THE CREVICE II
2020
Charcoal
43 x 29 x 34 cm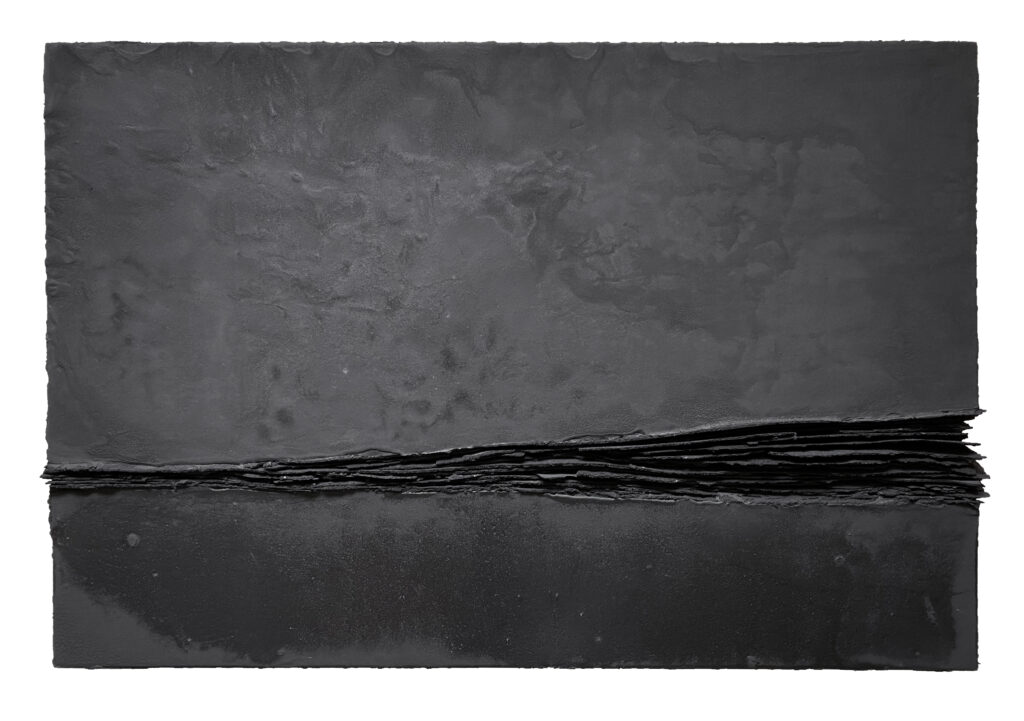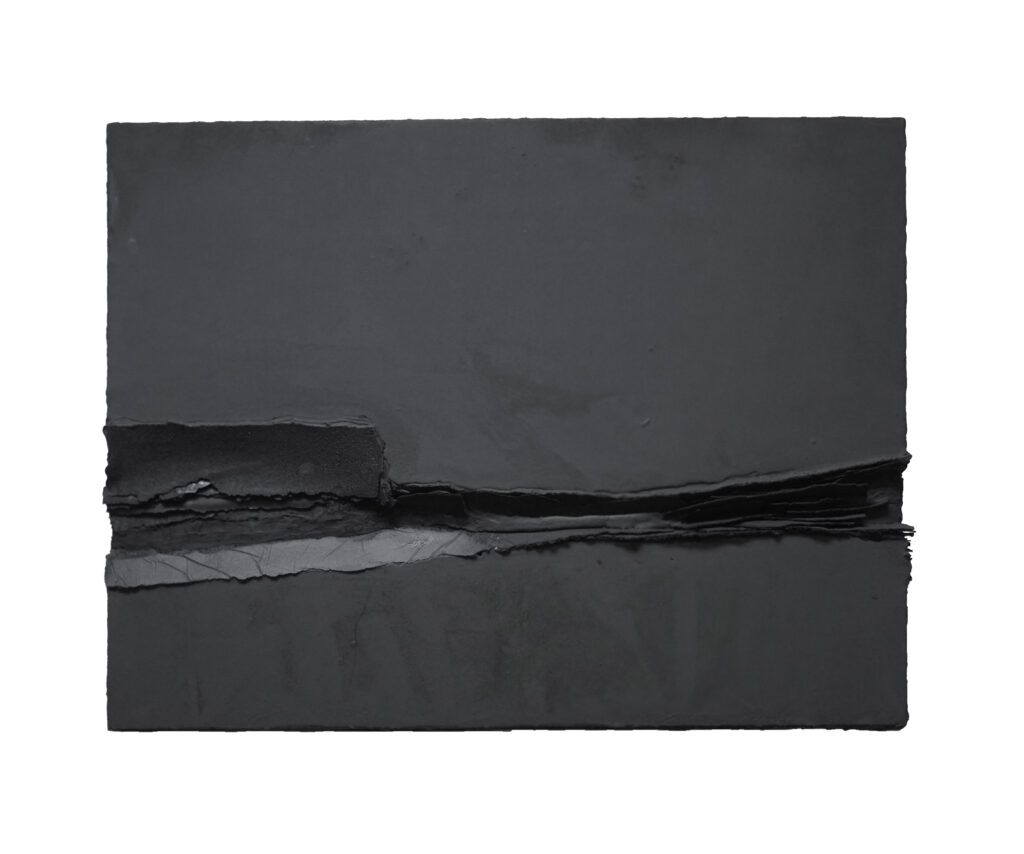 THE CREVICE III
2020
Charcoal
43 x 29 x 34 cm