One of Thailand's most controversial artists, VASAN SITTHIKET provocatively confronts issues shrouded in silence both in Thailand and across the globe, satirically exposing the hypocrisy and corruption ubiquitous among leaders in political, economic and religious institutions. Scathing and straightforward, his body of work spans a wide range of mediums, from paintings, drawings, installations to performance art. The issues and historical events they depict are similarly diverse: From rallying against George W. Bush's foreign policies in the US to revealing the crimes of some Buddhist monks in Thailand, he remains committed to standing with the poor, advocating against violence and abuse amongst the powerful, and provoking audiences into action through his art. 
---
Throughout his artistic career, Sitthiket has religiously stuck to his commitment to portraying truths of society, no matter how unsettling and disturbing, in order to ignite a sense of awareness among audiences. A recurrent theme in work is a glaring tension between forces of good and evil—painting the painful truth of how, unlike in fantasy stories, those who commit evil crimes often defeat and triumph over those fighting for good, both in history and present-day realities. This deep concern for morality and sensitivity towards what is right and wrong can perhaps be traced back to his days as a young man, who grew up with a strong spiritual background and interest in Greek philosophers, Christianity and Buddhism. However, after witnessing the chilling 1976 Thammasat University massacre of student activists by state forces in the news, Sitthiket's political consciousness awoke, and the artist found stronger purpose in fighting for the vulnerable in society rather than in his prior spirituality. He similarly became a student activist, but eventually found that the best way he could contribute to the fight was through his art, exposing as much as he could the societal ills of which he has become hyperaware.
---
UNTITLED (UPSIDE DOWN PORTRAIT)
Undated
Watercolour on paper
73 x 55 cm
Nonetheless, as much as Sitthiket addresses specific historical events, he imbues his iconography and figures with enough ambiguity such that his works are not confined to the past, but can continually be reinterpreted across time and space—revealing how much of the harsh truths he portrays are both particular and universal. The watercolour pieces featured in this show depict precisely this balance between direct, urgent narrative and obscure, imprecise details that leave room for fluid interpretation.
---
FIRED OLD TOWNS FOR NEW FLOWERS
2000
Watercolour on Paper
28 x 38 cm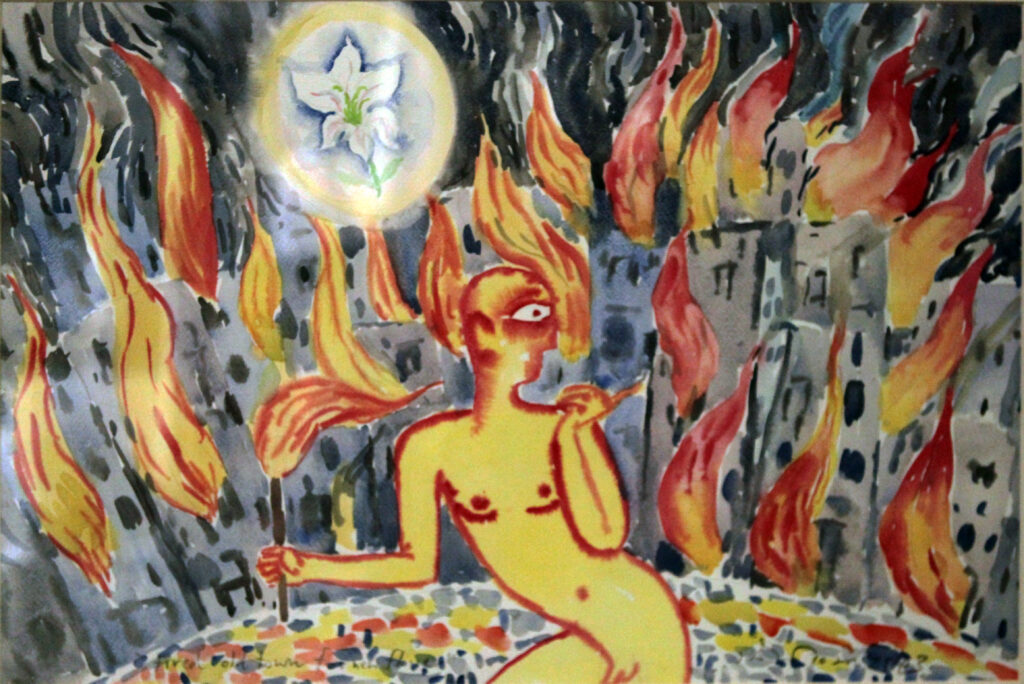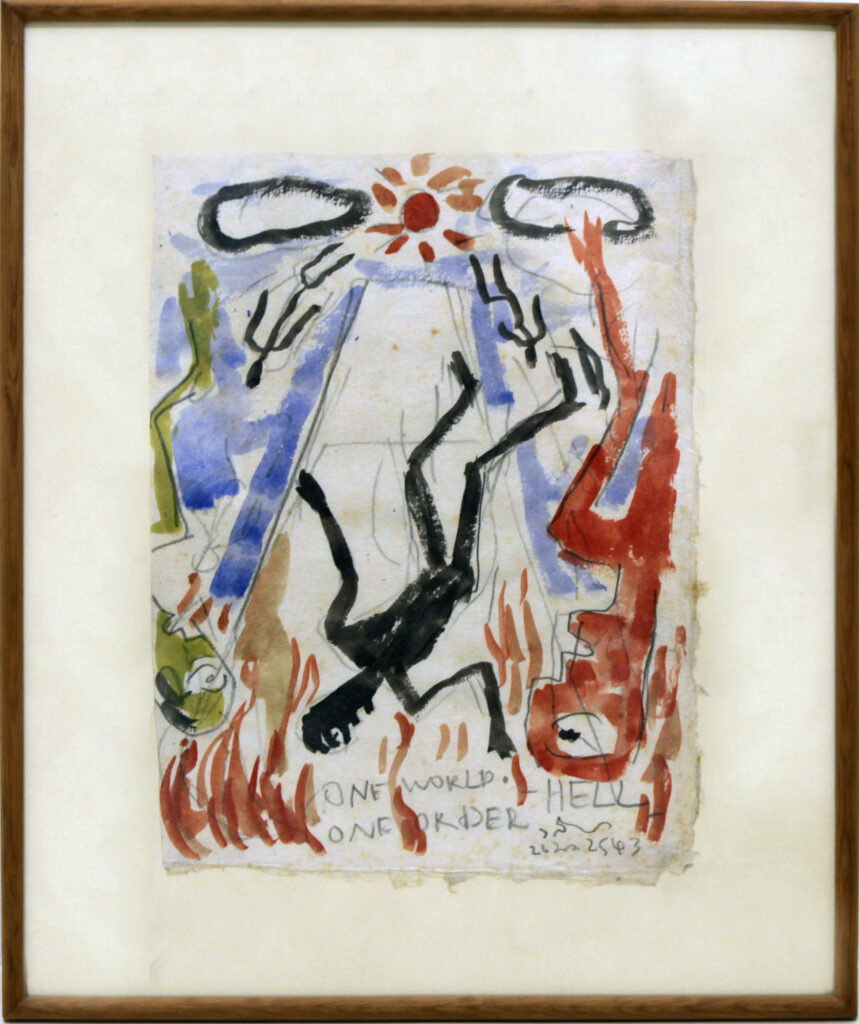 ONE WORLD, ONE ORDER HELL
Undated
Watercolour on Paper
Unframed: 38 x 28 cm | Framed: 55 x 45 x 2 cm
---
A city burning; references to the fiery depths of hell; and naked, bald figures with anxious stares recur in works such as One World, One Order, Hell and Fired Old Towns for New Flowers—indicating cities destined for doom.
In Fired Old Towns for New Flowers, however, a rare symbol of hope emerges amid the inferno. A flower is encircled in a luminous, almost divine white light, alluding to an awakening and a new life—one that, perhaps, need not be tainted by the moral decay, corruption and exploitation Sitthiket so boldly rejects. The motif is testament to how his art is not just an avenue to depict evil, but an expression of his relentless desire for a better, more just world than the one he was born into.
WAITING FOR NOTHING
Watercolour on Paper
28 x 38 cm
---
Showing a group of gaping figures in black, red, yellow and white holding hands in a circle against a red background, Waiting for Nothing, by contrast, does not have any direct references to literal destruction; yet, the title in itself communicates the bleak and empty future that awaits them.