Yogyakarta-born artist PUPUK DARU PURNOMO is recognised for his poignant depictions of the quiet, overlooked moments of daily life in his hometown of Yogyakarta. Ranging from delicate mother and child portraits to idyllic, yet intimate expressions of sacred monuments around the city, his work radiate loose, sensuous lines; thick, impasto strokes; and rich, dynamic colours that perceptively portray light and shadows to imbue these scenes with drama. While he draws inspiration from ordinary people and places, Pupuk's paintings defy ubiquitous, picturesque postcard snapshots of the city—rather, the artist illumines these scenes with a gaze that finds beauty in dark corners; joy in banal human interactions; and profound pleasure in the purest, simplest aspects of the culture and community he was born into. The inherent vivacity and fleeting, impressionistic nature underpinning his work further reveal the artist's relationship to his subjects: one in which he was fully present to all their sensory, psychological and spiritual implications, before translating them expressively on canvas.
In this series of nudes on paper, Pupuk employs pen and marker—a diversion from his more typical oil and watercolour mediums—to capture sparse and minimal, but not any less evocative and expressive, portraits of women.
---
NUDE
2006
Pen and marker on paper
Unframed: 59 x 39 cm | Framed: 80 x 61.5 x 3 cm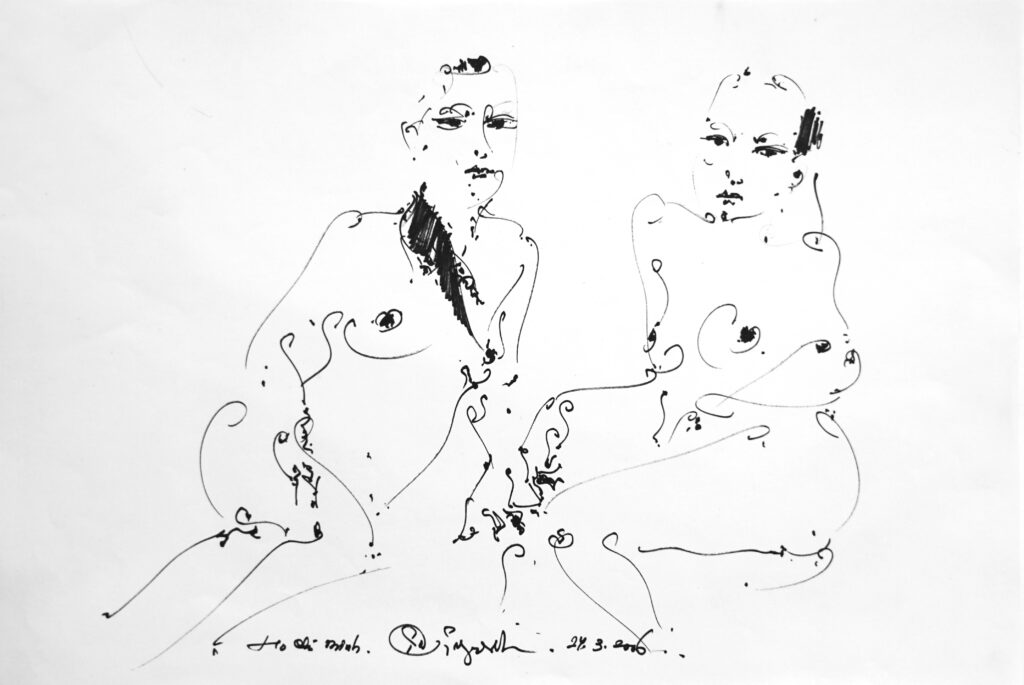 With their quick, gestural strokes and confident curved lines revealing the artist's mastery as a draftsman, the works veer away from highly detailed, static anatomies but instead capture the more subtle, distinctive spirit and energy radiating from each subject. Facing frontward towards viewers, a woman sits with her knee bent towards her torso and another leg folded on the ground, indicating a relaxed, casual position. Her gaze is slightly turned away from viewers, but it is soft and tranquil—instantly communicating a sense of comfort both within her body, and external environment.
---
NUDE
2006
Pen and marker on paper
29.5 x 41.5 cm
Another double portrait depicting two seated women, by contrast, reveal subjects with less inviting gazes and gestures. Their bodies face towards each other rather than frontward to the audience, and their facial expressions are aloof and distant—as if they were conscious and careful of not revealing their full selves to onlookers. A third portrait borders on surreal, as it reveals two bodily figures, but three faces—with one appearing at the rightmost side, almost like a ghost. Portraying the women lying down in a carefree, sideward position, the work captures a dreamlike atmosphere—revealing not only the women's physical gestures, but also an invisible serenity inhabiting their state of mind.
---
NUDE
2006
Pen and marker on paper
29.5 x 41.5 cm