Born in Hainan, China, HO HO YING is one of Singapore's pioneering modern artists who tirelessly called for Singapore's art scene to move beyond convention during the 1960s and 70s. He co-founded the influential Modern Art Society of Singapore, together with a group of artists who sought new ways to express the human condition in Singapore, entering new depths in thought and emotion through the fresh forms of modernism. Having grown up in the context of an underprivileged background and faced tragedy in the family at a young age, Ho is no stranger to the profound breadth of human emotion.
Though he was trained in traditions of Chinese calligraphy as a young student, he was later on moved by figures of Western modernism upon learning their works through art publications. Ho was particularly enamored by abstract-expressionist Jackson Pollock, whose influence can instantly be detected in Ho's deeply expressive abstract works. Possessing spontaneous, graceful strokes and dramatic interplays of colours and textures, Ho's paintings evoke a complex, ever-evolving interiority that could not otherwise be expressed through traditional representation.
---
SELF-PORTRAIT
Oil on Board
39.1 x 31 cm
This self-portrait on paper depicts a young Ho Ho Ying in a bold, expressionist style, revealing an early, important phase in the artist's explorations with Western modernism, prior to the expressions of pure abstraction he became most known for. Thick, dark and heavy strokes in oil paint outline the man's head and shoulders, contrasting the suppler strokes and lighter colours of beige, grey and blue and celadon that make up his skin. Shadows bring dramatic lighting to the man's face and show a sense of traditional perspective, yet his angular, exaggerated features reveal traces of modernism and the distorted anatomies of expressionism.
Moreover, this rugged quality coupled with the somber, melancholic colours of the background also provoke a more autobiographical reading, perhaps alluding to the struggles Ho faced throughout his adolescence, from poverty to the death of his mother. Yet, holding a soft, far-off gaze, the man's eyes reveal the subtle tenderness of a young, hopeful artist not hardened by hardships.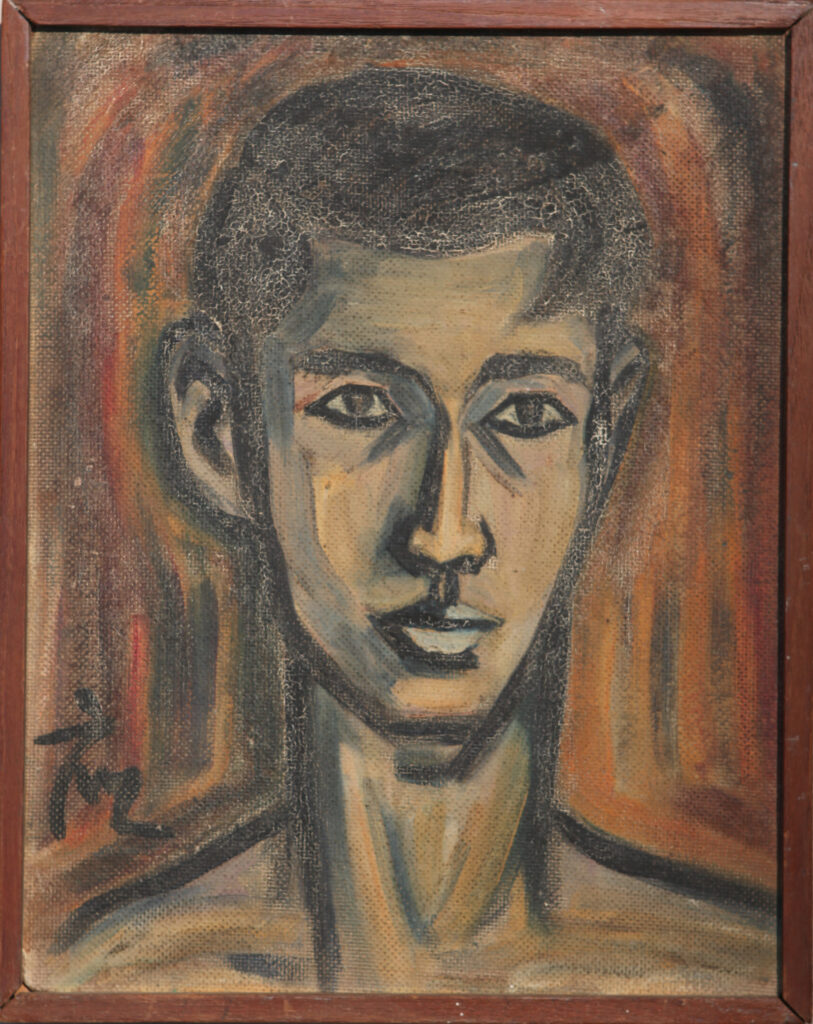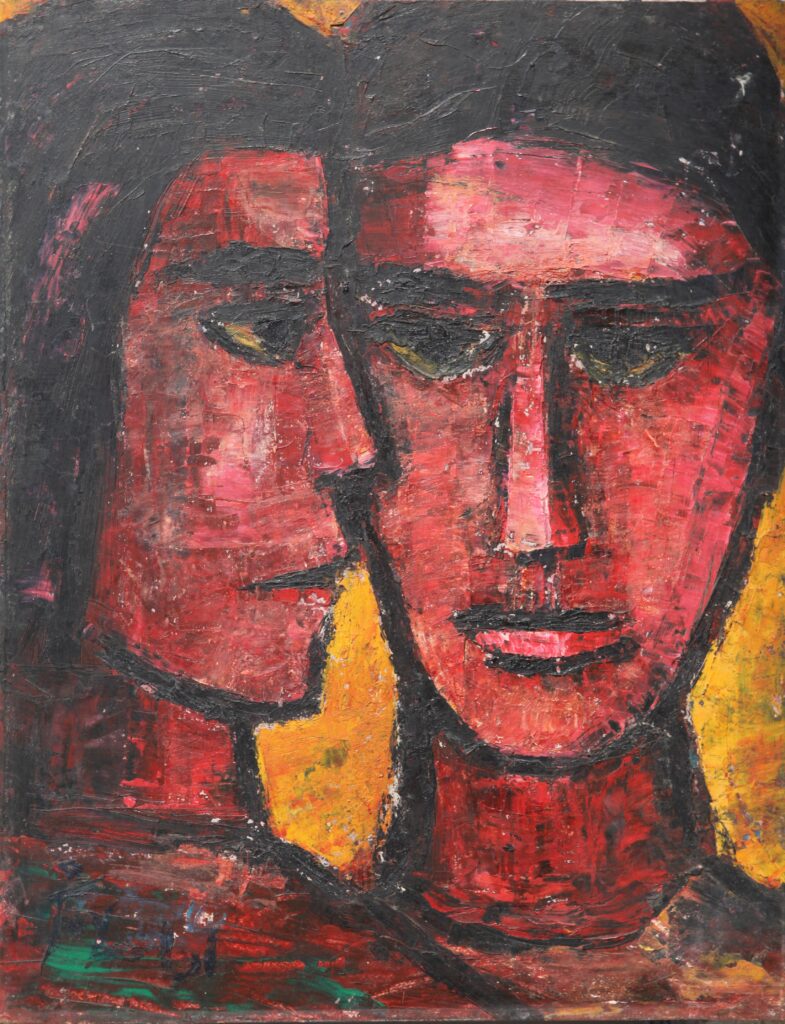 ROMEO AND JULIET
Oil on Board
45.5 x 35.5 cm
In this double portrait of a man and woman, Ho moves further and deeper into his investigations of modern forms and styles. Painted in bold, vivid pink, the skins of subjects veer away from representing realistic flesh colours, and resemble instead the bright, unnatural tones of fauvist paintings. The man and woman's faces contain exaggerated, geometric features, similar to the faces of Picasso's cubist paintings. The painting, however, is more than an experimentation or imitation of modern forms.
Psychological tensions are powerfully depicted through its colours and composition: While implicitly indicating a romantic relationship through its title, the couple appears distant from one another, with their stern faces and gazes refusing to meet. Their bright pink skins combined with the orange-yellow background express a warm, fiery intensity that could at once evoke passionate love, longing or pain. The painting is testament to Ho's ability to explore the profound depths of human emotion in a versatile manner, choosing not to be confined in one fixed style but instead immerse in the broad range and nuances of modernism.
STRUGGLE
1950s
Oil on Board
45.5 x 35.5 cm

Among the three paintings by Ho featured in this exhibition, Struggle contains qualities closest to abstraction. The subject's face barely has defined features, containing only thick, dark brushwork roughly resembling eyes, a nose and a mouth. His torso and arms are painted in textured, impasto strokes containing a range of rich, dramatically contrasting colours: deep blue, grey, brown and violet against bursts of yellow, orange, ochre, pink and white.
As he plays with these formal qualities of abstraction through colour, texture and spontaneous gesture, Ho does not distract from the represented subject, but only communicates more deeply the interiority of the man. With his face scrunched in anguish and arms held up to signal a sense of exhaustion, the man portrayed is visibly in a state of struggle, as the title suggests. Nonetheless, the myriad, luscious layers of colours and dynamic movements across his body reveal his enduring energy and humanity—a poignant resistance to his more external struggles, and a signal not of defeat, but life.