After close to 30 years living Bali, Ashley Bickerton returns to Singapore for his second solo exhibition Heresy or Codswallop an exhilarating show at Gajah Gallery that brings together six of Bickerton's series: Wall -Wall, Coral, Mitochondrial Eve, Blue Man, Silver Ladies, and Flotsam paintings, in addition to three sculptures.

At a time where the worldwide pandemic has limited access to physical space and international travel, and impacted the processes many artists depend on, Bickerton has managed to adapt and thrive – presenting both new works and iconic pieces from the last decade of his practice.
We Always Go Back
2020
Oil on Canvas with Artist Made Frame
169 x 169 x 8.5 cm
Private Collection
Blue Woman, Pink Cloud
2020
Oil, Acrylic, and Stones on Cardboard and Plywood
133 x 176 x 16 cm
Private Collection
Turquoise Woman
2020
Oil on Canvas with Artist Made Frame
169 x 156 x 8.5 cm
Private Collection
The early ideas behind Ashley's 'Silver Ladies' series may have first emerged in the seminal 1996 work 'All That I Can Be: Triple Self Portrait' (in the permanent collection of the Whitney Museum, New York) before eventually evolving into the body of work forming his 2014 show 'Junk Anthropologies'.

These heads are Ashley's attempt to merge an 'upended' Cubism with traditional portraiture, creating a "brilliantly balanced, perfectly calibrated critique of beauty, sexuality, tribalism, modernity, and a bitterly aware, almost hopeless urban lust for the unattainably exotic."
Apex Species, Apex Moment. Before the Fall. Mother.
2018
Oil and Acrylic on Canvas
210 x 197 x 8.5 cm
Codswallop and Doggeral
2019
Oil and Acrylic on Canvas
189.5 x 179.5 x 8.5 cm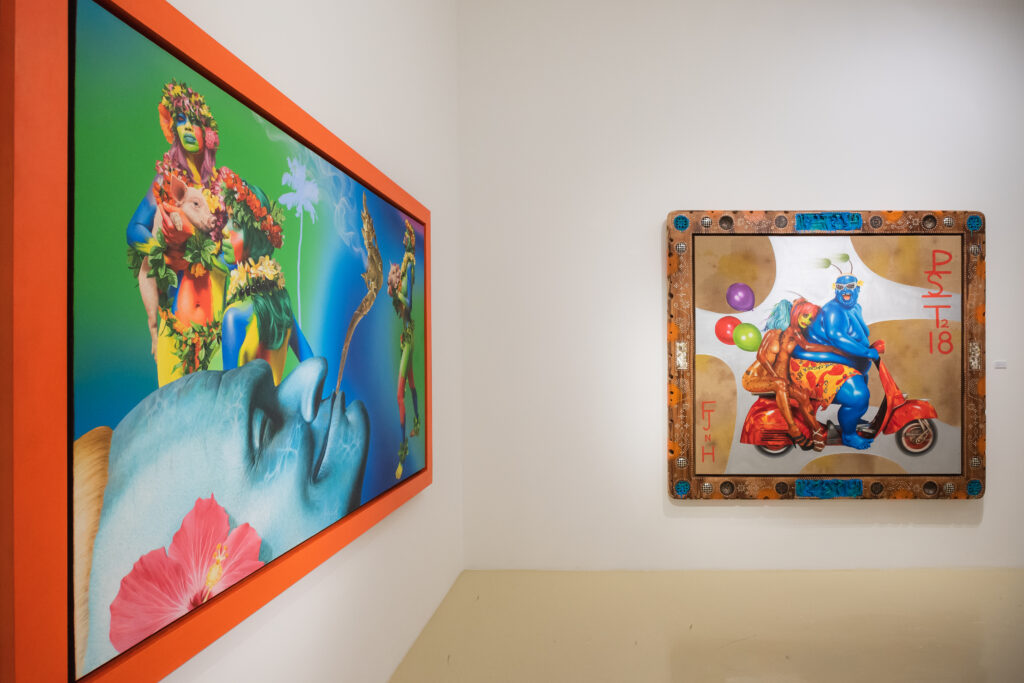 Yes, desire is everywhere present in my paintings. I'm interested in the liberating aspect of being totally untethered, let loose in the worst possible environments. … I like things to be seven kinds of wrong. If they are seven kinds of wrong, sometimes the wrongs neutralize themselves…

– Ashley Bickerton
Tropical Fever Dream
2017
Oil and Acrylic on Canvas with Artist Made Frame
165 x 244 cm
Private Collection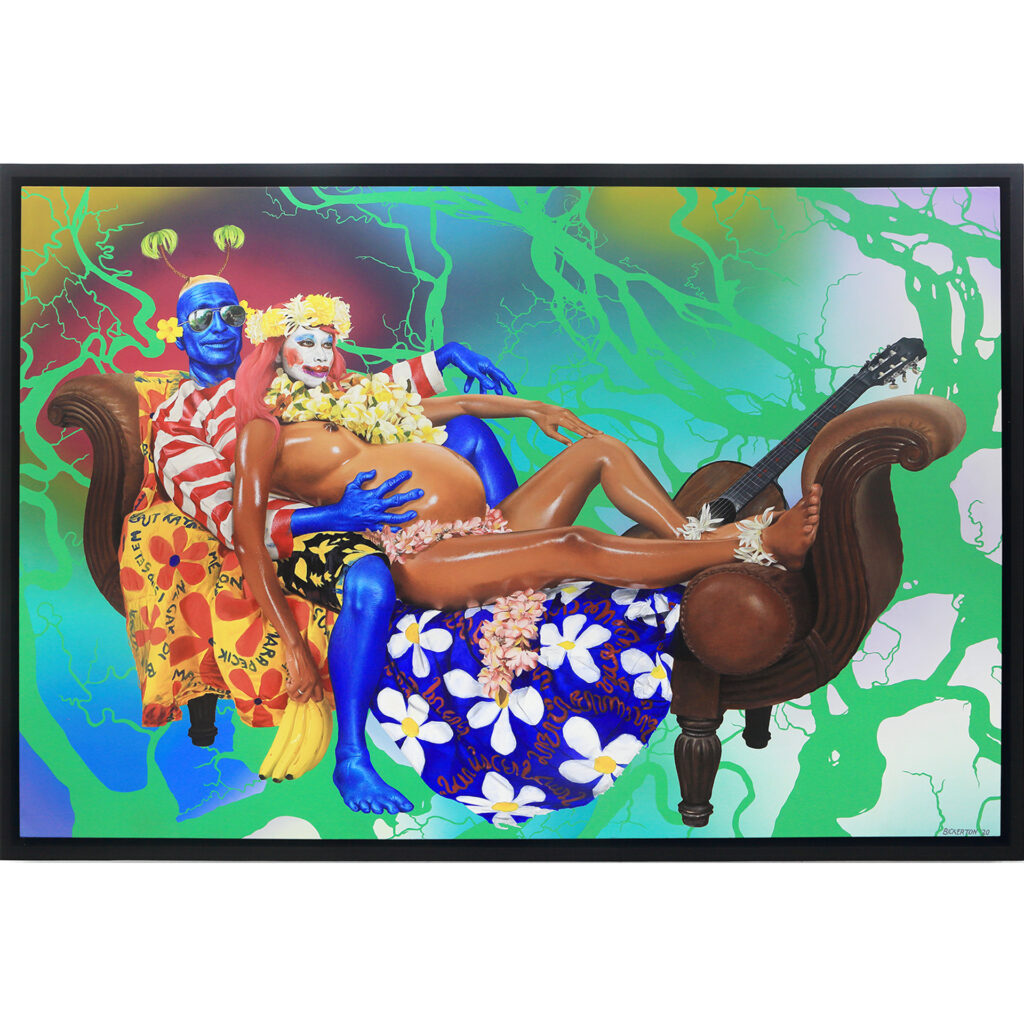 Pregnant Woman
2020
Acrylic on Canvas
152 x 220 x 8.5 cm
I want to create objects that are shamelessly beautiful at the same time that they invest in the utter bankruptcy of all possibility.

But then again, I think that this is a possibility that creates its own poetic dynamic, that is capable of producing its own optimism.

Ashley Bickerton
PST2
2018
Oil and Acrylic on Jute in Artist Designed Wood Frame
221 x 241.5 x 13 cm
Private Collection
The Bar
2018
Oil and Acrylic on Jute in Artist Designed Wood Frame
276 x 238 x 12.5 cm
Private Collection
T17nEXP
2018
Oil and Acrylic on Jute in Artist Designed Wood Frame
222 x 212 x 13.5 cm
Fat Man
2019
Bronze, Stainless Steel Rod, Metal, and Wood Base
170 x 41 x 46 cm
Unique Edition
Fat Man is a body Bickerton has returned to multiple times in several ways. The shape of the figure has come to represent the excess of consumption – an American way of life – in corporeal form, tied together with rope suggestive of Japanese Shibari.
The Wall-Wall paintings began in 1980s, as 'an exploration of the fiction and artificiality of painting and the art historical canon'. Today's 'Wall-Wall' works conceptually merge Ashley's earlier "Neo-Geo" panels with his current practice, while continuing to address the central question of "What Is A Painting?".

Bickerton uses resin-cast rocks, painted and arranged together, to be recontextualized upon installation on other walls. These exist as presentations of landscape and conceptual art, sculpture, and painting.
Wall-Wall No. 4 (Green Orange)
1986/2018
Oil and Enamel on Resin, Plywood, and Stainless Steel
79 x 120.5 x 19 cm
Wall-Wall (Waiting Waiting…)
2019
Oil, Acrylic, Enamel, Metal Flake, and Resin on Plywood, and Aluminum
190 x 170 x 23 cm
Brain, Variation 3
2020
Enamel and Rope on Fiberglass, with Stainless Steel and Concrete
180 x 30 x 30 cm
Ashley's Brain sculpture was made especially for this exhibition, a culmination of earlier works and years of reiterations of ideas – essentially a process of distillation. The ropes refer to climbing and abseiling equipment, with knots tied around the curves of the 'gyri' and 'sulci' (raised areas and folds/depressions, respectively) of the brain. The morphological features of the cerebral cortex are responsible for high cognitive processes like memory storage, language and consciousness.

Bickerton often speaks about his ideas as excavations of art historical genres, often reimagining traditional formats of presentation in visual art (ie. portraiture, landscape, etc.) One interpretation could see 'Brain' as a bust, a representation of the character of an individual either constrained or defined by the 'ropes', pulled by a force Galligan describes as "somebody behind the curtain" – which could be the media, capitalism, consumer culture, etc.
Bickerton's presentations of landscape can be traced back to some of his earliest works. With a childhood spent near bodies of water, and as a life-long surfer himself, Ashley's relationship with land invariably includes the surrounding seas and oceans.

His obsession with "the earth/sky binary, matter and emptiness" translates through these surrealist works in the gentle formations of a coastline or horizon, and the undulating waves washing up detritus along the shore.

Though Bickerton describes these as 'residues of lives lived', he rejects any sentimental or ecological readings – asserting that the summation of human and organic elements seen in this series constitute beautiful things in their own right.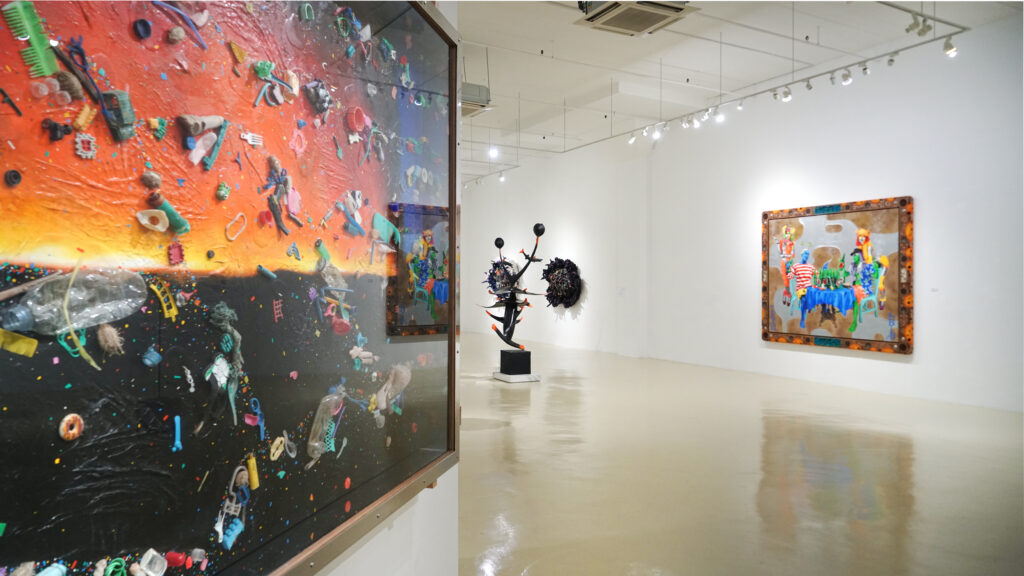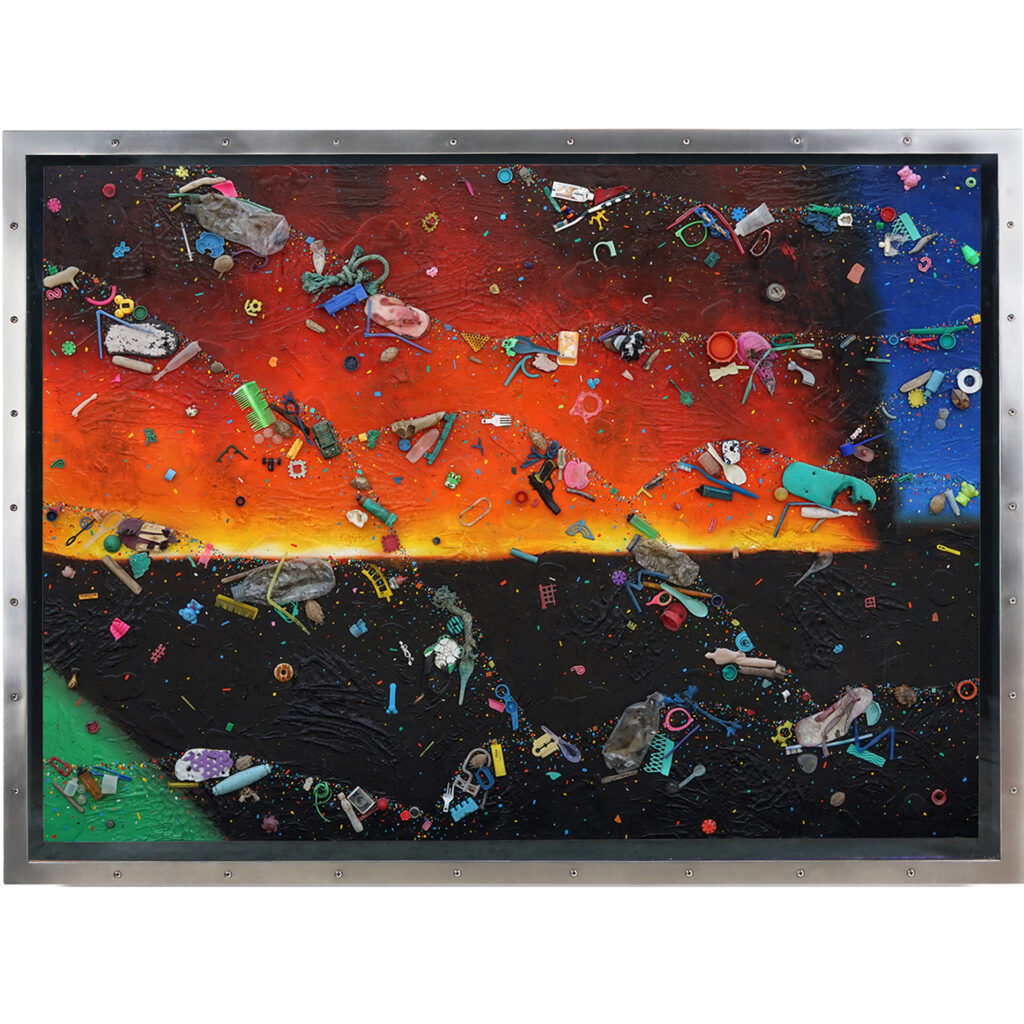 Flotsam Painting Fire Plane
2019
Beach Flotsam, Oil and Acrylic on Canvas with Plywood, Glass and Stainless Steel
157 x 213 x 20.5 cm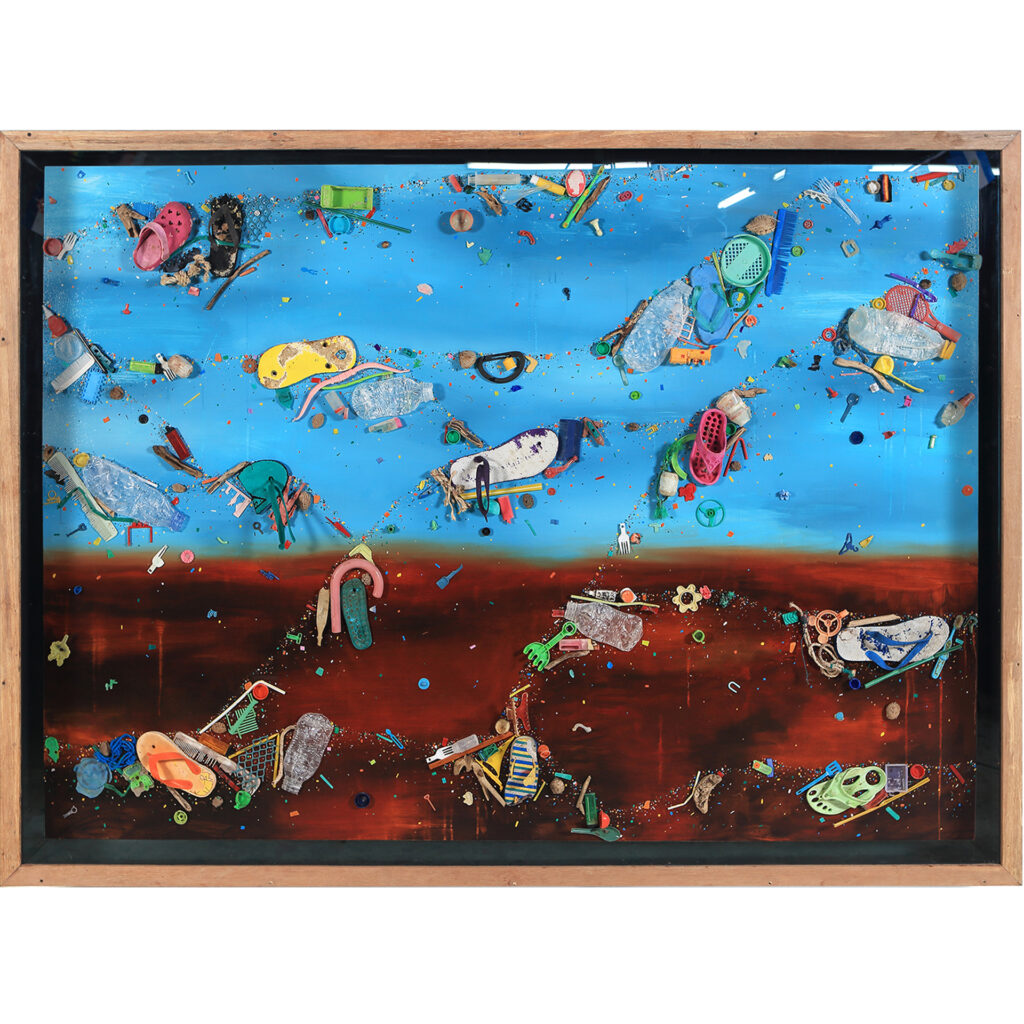 Flotsam Painting Blue Brown No. 1
2019
Beach Flotsam, Oil and Acrylic on Canvas with Plywood, Glass and Stainless Steel
157 x 213 x 20.5 cm
Shark
2019
Cast bronze
262 x 139 x 140 cm
Edition 2 of 3
The Sharks cover many years: the first was completed in 1992 (…). The idea first came to me while I was travelling through the outermost Solomon Islands in the Southwestern Pacific. On this six-month trip, which encompassed much of the Pacific and a large swath of the Indonesian Archipelago as well, I witnessed so much of what is called primitive art that I began to see clearly the timeless language connecting all human-crafted objects. I became obsessed with collecting these artefacts from remote regions and built up quite a hoard.

Ashley Bickerton
Debuted 10 years ago in 'Nocturnes' (Lehmann Maupin), the TITNW or 'Coral Series' obscures the world of neon bars and go-go clubs within a jewelled shell-like sculptural form. Hidden within is an image of the backstreets of paradise, the neon-lit world of exploitation Bickerton inhabits. One function of coral in the environmental ecosystem is to provide habitats and shelter for marine organisms.

Ashley has spoken about a deep love for the ocean, for exploring its dark waters and mysterious underbelly; observing the activity in tourist hubs of Southeast Asia, one can draw parallels between the types of characters and predatory practices of creatures lurking in its dingy corners. A closer look at the dizzying collage in these works reveals entire ecosystems within.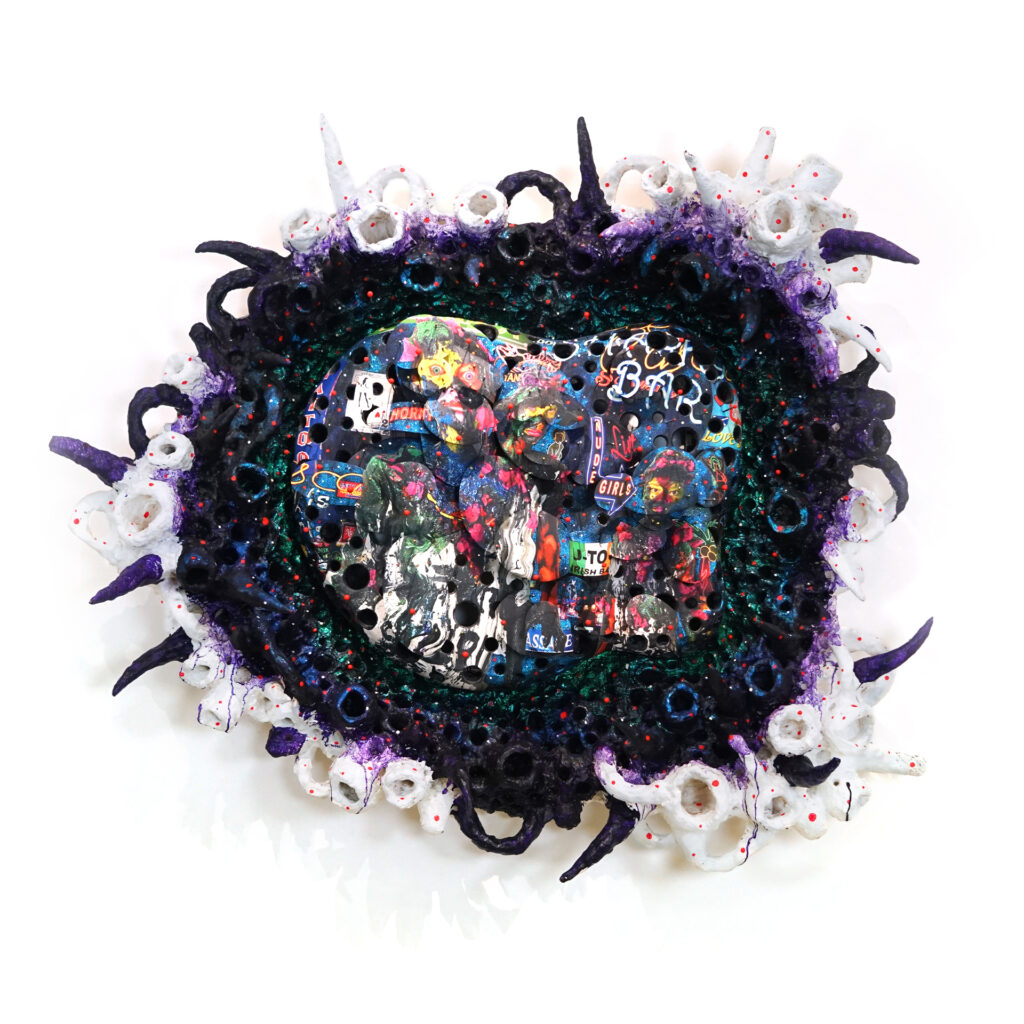 TITNW 5
2011
Acrylic, Digital Print, Bamboo, Wood, and Fiberglass
162.5 x 180.3 x 50.58 cm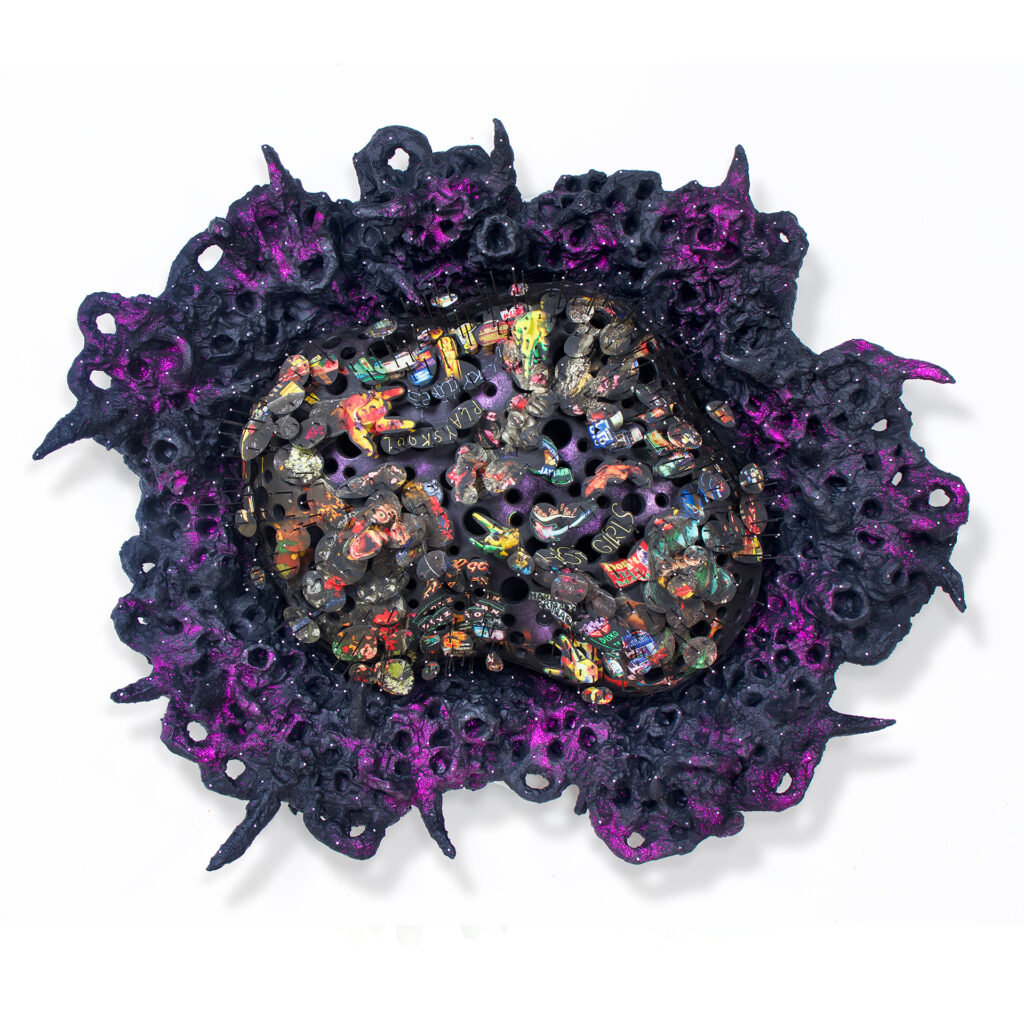 TITNW 2
2020
Acrylic, Digital Print, Bamboo, Wood, and Fiberglass
149 x 172.7 x 40.6 cm
---