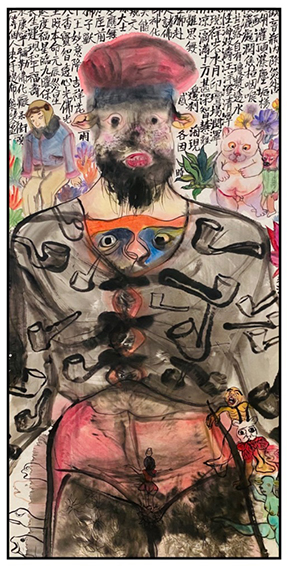 Li Jin is known for his unorthodox paintings that merge traditional Chinese brush painting techniques with banal, carnal and intimate scenes. Painted in watery strokes and lush colour palettes, his subjects often possess imperfect bodies, and are captured partaking in private or self-indulgent activities: bathing, drinking or feasting, for instance. Yet, beneath the unabashed expressions of excess, one detects a darker irony and deeper psychological tension in his work.
英雄 (Hero) depicts an unsettling picture of a bearded man in a claustrophobic atmosphere, surrounded by animals and fantastic creatures.
This piece juxtaposes its rather grand title: 英雄(Hero) evokes a sense of ideal and virtue, but the painted scene expresses messier, uncomfortable realities—in which the representation of a 'hero', rather than standing out, are consumed and made invisible by crowd.