Weixin Chong
(b. 1988, SINGAPORE)

Weixin Quek Chong is a visual artist whose practice explores the materiality, alter and after-lifes of images and relationships between the digital, organic and aesthetic. Effects and methods of translating images across materials are core to her practice. 

Having completed studies in both the Royal College of Art, London and Lasalle College of the Arts, Singapore, Chong has exhibited and worked in highly varied environments. She is a co-founder of independent platform soft/WALL/studs in Singapore and works on both solo and collaborative projects nomadically. Chong maintains an often-mobile practice between Singapore and Madrid. 
WORKS BY THIS ARTIST
LIMBO (SORCERER)
2020
Instant Film Photoraphy, 60 x 95 cm
Composed of six photographs created using instant film, this work reflects Weixin Chong's ongoing fascination with fragmented images, capturing the poignancy in organic objects and small, fleeting moments.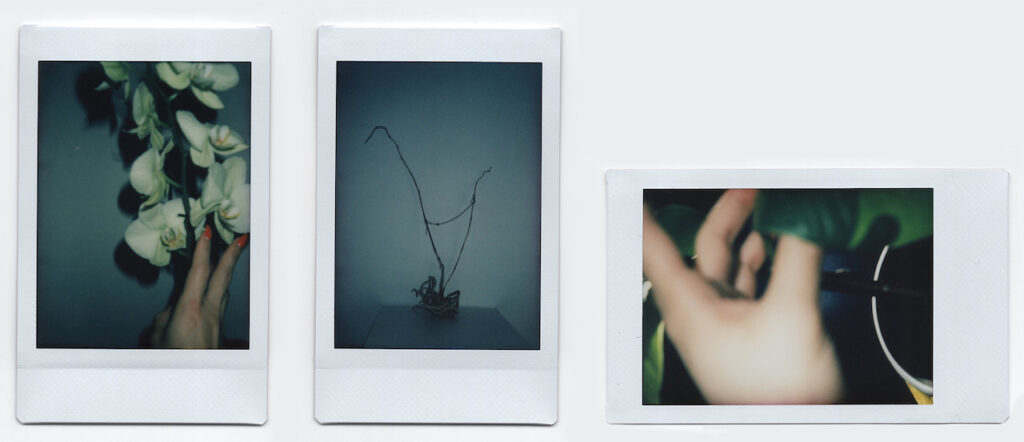 The elegant petals of a white orchid; a dried up, fragile branch of a plant; a small, rough and rugged rock; a hand feeling the sensuous textures of these natural things: Chong imbues these otherwise mundane fragments and scenes with a unique poetry and melancholy achieved only through film. 
Individually, each photo invites us to quietly meditate on its subject, allowing the vividness of details and the empty spaces speak; and serve as entryways into humble, human stories. Together, the photos form a larger, abstract picture, in which fragments are woven together to tell an incomplete, haunting narrative that navigates relationships between isolation, desire, chance, absence and growth—a moving testament to the complex, unpredictable interior world of an individual during this historic time of lockdown.